For many families, summer road trips are a tradition. The purpose of these travels may be to relax in a scenic setting, explore a new city or visit out-of-town relatives.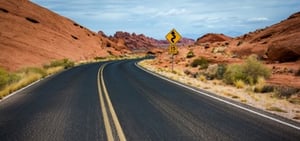 Travel, however, can be challenging for older adults. If you plan to take a road trip with your loved one, these tips may help take some of the stress out of the journey.
Keep it manageable. If possible, choose a destination within a few hours driving distance. If you are traveling long distances, break up the travel into smaller segments.
Make sure your vehicle is in good working order. It may make sense to rent a vehicle to provide increased reliability, more comfort and extra space on your road trip. In addition, if your loved one uses a walker, wheelchair or cane, make sure there is enough room for the assistive device and that it is easily accessible.
Avoid rush hour traffic. Try to travel at the time of day (usually morning) that your loved one functions best.
Take breaks along the way to stretch arms and legs and bathroom breaks. Use a buddy system when making a rest stop, especially if your loved one gets confused in strange places.
Pack a bag with medications your loved one will need during travel, as well as emergency contact information. Also include an extra sweater and a change of clothing.
Bring bottled water and healthy snacks to keep everyone nourished and in good spirits. Being hungry or thirsty can lead to irritability and confusion. Also check to see if your loved one needs to take any of their medications with food.
Listen to music or an audio book to pass the time together. Make sure everyone gets a turn making a selection. If your loved one has dementia, music can be a great way to boost the person's mood and stimulate memories and storytelling. Watch our video to learn more about the power of music.
When Long-Distance Travel Isn't Possible
Long road trips may not be possible for some older adults due to health and mobility issues. Despite these limitations, you can still change the scenery without venturing far from home. Try these adventures instead:
Enjoy at picnic at a nearby community park.
Take a trip to a local zoo or museum. If leaving home isn't advisable, consider making a virtual visit to Smithsonian National Museum of Natural History. You can experience a live view of elephants, lions or pandas when you make a virtual stop at the National Zoo.
Enjoy a trip down memory lane. Look at old photos and tell family stories.
Connect with out-of-state family via Skype, Facetime or another video chat service.
Whatever road you take, enjoy your family travels together!
Additional Resources