Every Saturday morning we have our routine. After feeding my two-year-old her second breakfast of the day, I patiently wait for the clock to strike 9 a.m. It's now time to Facetime, aka video chat.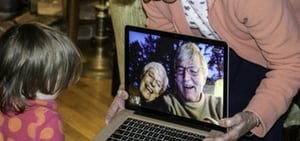 We usually start with Claire's great aunt Elaine in Kansas. Over Facetime, we review everything Claire has eaten that morning, her exploding vocabulary, her daycare antics and weekend plans. Auntie Elaine relishes every minute detail, but mostly she loves seeing her great niece. They blow kisses, wave hello and goodbye, and Claire gets a chance to show off her killer dance moves. It's a win-win-win. Auntie Elaine gets to spend time with her great niece, Claire gets to interact with family she rarely is able to visit, and I occupy my rambunctious toddler for a few blissful moments.
Like Claire's great aunt Elaine, more and more older adults are embracing technology.
According to the Pew Research Center:
Four-in-ten seniors now own smartphones; that's more than double who did so in 2013.
67 percent of older adults are online (up from 14 percent in 2000).
A third of Americans 65 and up say they have used social networking sites such as Facebook and Twitter, which is up from 25 percent in 2013.
Also, like Auntie Elaine, staying connected to family and friends is a top motivator for going online. Among online seniors 65+, 75 percent say the internet makes it easier to keep in touch. Other top reasons for going online include shopping (58 percent) and health information (53 percent).
Despite growing internet use, older adults could benefit from some assistance. The majority of seniors say they need help when it comes to using new digital devices. In addition, older adults with disabilities are less likely to have internet in their home or use digital devices such as a tablet or smartphone.
So, if there is an older adult in your life who would enjoy going online, help them out! Studies show seniors who use social networking sites socialize more frequently with friends and family.
While Facetime and social media can't replace in-person contact, the technology is an amazing supplement and helps bridge the gap between visits. Auntie Elaine lives 900 miles away and trips to Kansas are few and far between, but through Facetime we can "see" each other every week.
Editor's note: This article was originally published Aug. 31, 2016. It has been revamped and updated for accuracy and comprehensiveness.