What is your favorite thing to wake up to in the morning? Is it rolling over and seeing your special person snore quietly? Maybe it's the excited giggles from your child or grandchild? Is it the sun peaking over the horizon?
Let's be honest; it's probably none of those t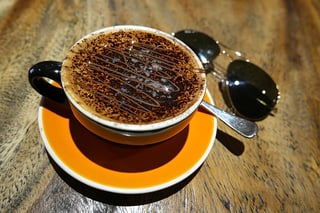 hings. Those greeting cards and movie moments are mostly a sweet mirage. Waking up, in reality, can be difficult, especially when you are trading the warmth of happy dreams for the busy daily demands of life. One way to make the morning brighter is to drink a fresh-brewed cup of coffee. Coffee can help pull people out of a sleepy stupor and energize them to face the day.
Now, you may think coffee worship is a new phenomenon, but the little bean has been loved since the 15th century. In France, King Louis XIV had his coffee plant closely guarded in the royal garden, although one enterprising man managed to sneak a clipping and bring it to the Americas. We will not attempt to delve into coffee exports and economies built on coffee (we would be here for hours.) So, let's agree that coffee is extremely popular and important.
It's not a head scratcher as to why people love coffee: it tastes wonderful with or without sweet additions, smells lovely and warms bellies and bodies.
However, coffee can be so much more than a tasty beverage. It has some amazing health benefits, as well, including:
For more information about the perks of coffee, see our infographic below.
Although coffee is a healthy beverage, it is possible to overindulge in caffeine, which can have negative effects in the body. Ask your physician about how much coffee and caffeine you can imbibe.
Do you need someone to help you make a pot of joe, shop for some java or share pour a cup with you? ComForCare/At Your Side Home Care caregivers can assist you with food preparation, transport you to grocery stores and provide companionship. Call us today to schedule a free in-home assessment. Our caregivers are ready to help energize your day; just like a cup of coffee.