While medications are created to help heal illnesses or manage the symptoms of chronic diseases, prescribed drugs can also be dangerous if not taken correctly.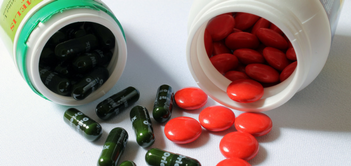 Adverse drug events
(ADEs) cause more than 1 million emergency department visits and 280,000 hospitalizations each year. Blood thinners (anticoagulants), antibiotics, diabetes drugs and opioid analgesics are the most commonly implicated categories of medications in visits to the emergency department for ADEs, according to the Centers for Disease Control and Prevention (CDC). This means popular medications like warfarin, insulin,
antibiotics for pneumonia
and hydrocodone may be the cause or related to ADEs that can lead to a visit to the emergency room.
In particular,
older adults
(65+) are twice as likely to go to emergency departments for ADES, according to the
CDC
. They are also
seven times
more likely to be hospitalized.
What Can I Do to Help Older Adults Avoid an ADE?
Medication Safety Week is April 1 -7, so here are seven activities for older adults to do each day to celebrate and stay safe.
Day 1
: Round up your medications from the bathroom, kitchen, bedroom or wherever else you keep them. Type or hand write a list of all the medicines you take, including prescriptions, over-the-counter medications, vitamins and supplements. Make copies of the list and keep them in your purse, wallet and car.
Day 3
: Review the instruction labels on the bottle or the medication's pamphlet. Ensure you are following the directions, such as take with food. If you have any questions or concerns, write them down so you can ask your physicians or pharmacist.
Day 4
: Call your physician (general practitioner), specialists and/or your pharmacist and schedule a time when you can ask your questions. If you were recently discharged from the hospital or received a new medication, your physician may want to perform a
medication reconciliation
, where they make sure the discharge instructions haven't removed necessary medications, duplicated existing medications or prescribed incorrect dosages. Medication reconciliations can help you prevent an ADE.
Day 5
: Ask if your physician if you need blood testing. According to the
CDC
, medications such as blood thinners, diabetes medications, seizure medicines and heart prescriptions are common drugs that can require monitoring.
Day 6
: Organize your medications in a pillbox that is difficult for children to open or make sure the cap is always locked. Place them up and away from
children's reach
after every time you take your medicines.
Day 7
: Make a list of general questions for when you are prescribed new medications. Questions could be: Does it interact with any of my existing drugs? Does it have any major side effects? Can I still have an occasional alcoholic beverage when taking this medication?
By becoming more organized and more inquisitive, older adults can become better advocates and more active in their own care. Do you know an older adult who needs help with their medication regimen? ComForCare/At Your Side Home Care caregivers can help with medication reminders and other services including personal care.
Contact us today to learn more.