Planning a day out/in with your grandparents can be a vigorous exercise in creative thinking: What do you do? Where should you go? What do you talk about? Thankfully, my grandma and I had very similar tastes, such as window shopping and watching "The Nanny."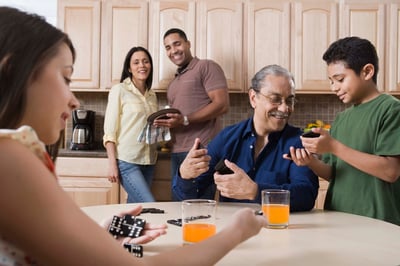 However, if you don't have shared interests or actually know much about your grandparents, besides grandma bakes cookies and grandpa listens to baseball games on the radio, then you are going to have a difficult time. The added pressures of birthdays and getting them a gift is even more stressful. You can't make macaroni art presents if you are an adult. Trust me.

So, what's a grandkid to do? I have made the following list of fun activities to do with your grandparents with somethingeveryone will enjoy.
Watch an old movie or TV show
"Golden Girls" speaks to all generations of women, which is why it's my favorite choice for grandmas. You can introduce her to binge-watching and gossip about your favorite characters or 80s outfit, although, Blanche is the clear winner in both categories.
If fashion is her passion, put on a fashion show and model her vintage outfits (my fondest memories are trying on my grandma's Avon jewelry and navy blue dickies). Ask her if she remembers where she wore these outfits, such as on a date or on a vacation.
Fact: If your grandpa was born anywhere between the 20s and early 40s, he likes westerns. Watch a famous title such as the classic "The Good, the Bad and the Ugly" or the western-inspired, modern "True Grit." After the movie, ask him about going to the theater or drive-in movies as a child or teenager. Did he throw popcorn, sneak his friends in the show, like in "Grease," or take dates there?
Play a game
If your grandparents are sporty or athletic, join them for a game of their favorite sport. For those whom need a slower pace, whether grandchildren or grandparents, set up lawn games such as bocce, croquet or horseshoes. After your game, ask your grandparents if they were high school or college athletes. Let them tell stories or show off their letterman jackets or medals. When I learned my grandma used to tap-dance, I was floored. She had never mentioned it previously or shown any particular interest in dancing. That random fact created a clearer view of her as a person; that she isn't just a grandmother.
If your grandparents prefer board games or card games, learn how to play past-popular games like pinochle (pea-knuckle) or cribbage. Monopoly and Scrabble are also good choices because they are so well-known and beloved by all ages. Grandparents.com has a pretty extensive list of different game rules for you to use. When you set up the game, bring any reading glasses or magnifying glasses and make sure there is enough light. You can also purchase large-print playing cards. As eyes age, vision becomes weaker. Reading and writing can become difficult and frustrating. Help your grandparents enjoy themselves by preparing appropriately.
Be a jerk… a soda jerk
Prepare soda fountain favorites with your grandparents: chocolate colas, floats or egg creams. These foamy treats may stir up some funny memories for your grandparents: first dates, after school meetups or working at one.
The kitchen is the heart of any home. It's where love and memories are made. According to a post on the University of Harvard Blog, food is connected to our emotions and deep memories. So, when you make your grandparents treats and meals, you help them recall those long-term memories.
Leave a legacy
Hanging out with your grandparents is about making new memories and retelling old memories, so that you can share them with future generations. Be sure to capture the stories. Through recordings (photos, videos or written word), a foundation is formed for the generations to come – they will know where and whom they came from.
Haley Kotwicki has many years of experience with family caregiving, especially with older adults. She has a background in journalism and is currently the copy editor at ComForCare. Haley blends the latest research, practical information and humor into inspirational posts.