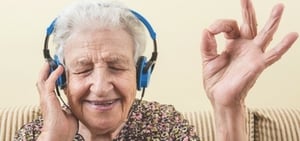 You may have heard about the power of music for those with Alzheimer's disease or another form of dementia. But, did you know music is also beneficial for people living with other chronic conditions, such as Parkinson's? Here are three ways music can improve the life of a person with the neurodegenerative disorder.
Movement
The rhythm of music can help people with Parkinson's organize their movements to be more smooth, flowing, unhesitating, and not too slow or fast. The rhythm of music (or rhythm alone) can make all the difference.
When people with Parkinson's focus on an upbeat rhythm, it helps them get – and keep – moving. Likewise, paying attention to a slow rhythm can lower excess movement and tremors that may disturb rest and sleep. The "best" rhythms differ by individual. It may take some experimentation to find the most effective ones. Counting, using a metronome or following along to a rhythm app on a mobile device can be beneficial.
In addition, music and rhythm can help people living with Parkinson's to dance! The program Dance for PD utilizes rhythm to enhance students' ability to move smoothly. The organization offers dance classes for people with Parkinson's, their families, friends and care partners in 20 countries. They also offer DVDs you can do at home.
Speech
People living with Parkinson's can have slurred or unclear speech. Music can alleviate these symptoms as well. Singing sustained notes can improve breathing and articulation. People with Parkinson's can also tap on their own hand, creating a rhythm to aid smooth speech.
Socialization
As with many chronic illnesses, people with Parkinson's can become socially isolated. However, various music and rhythm activities can provide an opportunity to socialize with others. Groups that meet for drumming, walking, music therapy, singing or dancing can be beneficial.
Some of these groups are tailored specifically for people with Parkinson's. These group activities are great fun and can reduce loneliness. No need to be shy: Everyone in the group understands what living with Parkinson's is like.
Music can certainly make the day brighter for people with Parkinson's. However, when Parkinson's interferes with tasks of daily living, such as personal care, home care can help. Contact ComForCare/At Your Side Home Care for more information. Count on us for the help you need to live your best life possible.