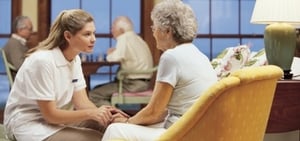 Depression in older adults is not uncommon, yet there are many unfounded myths about it. Let's dispel three of these, because believing them can delay or prevent timely treatment.
Myth No. 1: Depression is just a part of normal aging.
In reality, depression is an illness, not a normal part of growing older. In fact, the majority of older adults are not depressed. Research shows most healthy older adults feel satisfied with their lives.
However, depression is more likely when there are one or more chronic conditions that limit functioning, of which older adults have more.
Myth No. 2: Depression in older adults looks just like depression in younger people.
In reality, depression in elders can look quite different than in younger people. There might be a pervasive sadness, but it can also look a lot like dementia's confusion and memory loss.
Depression in older people can also be a symptom of another illness, such as cardiovascular disease, diabetes, Parkinson's disease or a vitamin B12 deficiency. Depression can also be a medication side effect.
Since more seniors have these conditions and also tend to take more medication than younger people, a physical exam and a review of all medications should be part of a plan for treatment.
Myth No. 3: Treatment for depression is mostly ineffective, so why bother?
In reality, with prescription medication and/or counseling, depression in older adults usually gets better. Self-help measures, such as regular exercise and exposure to bright daylight, can complement these treatments, as well as prevent further depression.
Do you worry about an older person who might have depression?
The National Institute of Mental Health offers these recommendations:
Encourage and support the person. Show patience and understanding.
Help them keep track of appointments and weekly medications. Someone with depression may not be thinking clearly.
Make sure they have transportation to medical appointments.
Be a good listener. Talk to them. A conversation can make a difference.
Engage them in activities, such as going for a walk.
Remind them their mood will lift over time with treatment.
Never ignore comments about suicide; take action right away.*
You (or they) can call the 24-hour hotline of the National Suicide Prevention Lifeline to connect with a trained counselor at a suicide crisis center nearest you at 1-800-273-TALK (1-800-273-8255) TTY: 1-800-799-4TTY (4889). Also, call 911 for emergency services, take them to the nearest hospital emergency room or call the person's doctor.
Follow up to be sure they get the help they need. This is particularly important to prevent suicide. According to the National Alliance on Mental Illness, about 70 percent of older adults who die from suicide seek medical care from a doctor in the month they die – so health providers, especially, need to watch for signs of depression. There is real hope for older adults with depression with effective treatment.