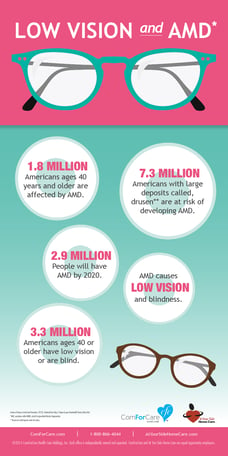 They say, "Beauty is in the eye of the beholder," but what if you can't see the beauty? In fact, it looks blurry. February is not only the month of hearts, but the month of eyes, as well — National Age-Related Macular Degeneration and Low Vision Awareness Month. That's quite a mouthful (or eyeful), so let's explore these conditions.
What is age-related macular degeneration?
Age-related macular degeneration (AMD) is a progressive disease that causes blurry, distorted vision by affecting the macula, which is a tiny dark spot at the back of the eye. It's the leading cause of central vision loss in Americans ages 50 and older. To simulate AMD, cover your left eye with your left hand. Now, make a fist with your right hand and hold it in front of your right eye. This is how Eyehealth Northwest describes AMD; the central vision is obscured while the peripheral vision remains intact.
There are two main types of AMD: dry and wet. Dry AMD occurs when degenerative proteins, also called drusen, deposit themselves inside the retina. In wet AMD, the more serious of the two conditions, blood vessels behind the retina begin to leak blood and other fluids.
You can reduce your risks for AMD if you:
Quit smoking
Manage your blood pressure
Protect your eyes when you are outside
Exercise regularly
Eat green, leafy vegetables
What is low vision?
The National Eye Institute explains that low vision is a visual impairment that cannot be fixed by glasses, medicine, surgery or contact lenses. Signs of low vision can include difficulty:
Reading, cooking or doing things around the house
Recognizing friends and family members' faces
Seeing clearly even with the lights on
Matching colors
Reading signs for roads and stores while driving
If you are affected by AMD or low vision, call ComForCare/At Your Side Home Care. Our in-home caregivers can help with vision needs such as checking the small-print expiration dates on food or reading the newspaper aloud. It's just one of the 50 ways we can help.