For older adults who live alone or have lost their spouse, pets can be excellent companions. When my grandfather passed away, my grandmother adopted two blue baby parakeets named Heckle and Jeckle. Although they screeched incessantly, they gave her purpose, and she adored them. She would wake up early to feed them their seed, she would sing to them and every few weeks she would drive to the pet store to buy them more perches, bells, etc. She was overjoyed when she thought Heckle was going to lay eggs and rushed to get a nesting box (Heckle never laid the eggs because he was just a very chubby boy.)
Like my grandmother's parakeets, pets bring countless benefits to older adults, including better health and companionship. If you are concerned about the well-being about an older loved one, consider a furry, feathered or scaly friend.
Should You Get Your Loved One a Pet?
If your dad likes his home pristine and has any aversion to messiness, don't drop off a drooling Great Dane. If your grandma never had a pet growing up, don't surprise her with a fragile exotic fish.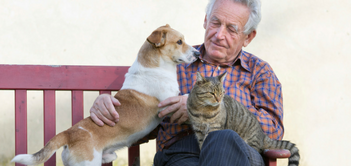 Even if they were past pet owners, your elderly loved one may not want to feel responsible for their care and upkeep. They even could have hardened their opinion against animals. For instance, my dad loved cats, but after becoming ill, their natural sneakiness agitated him.
Thus, before you adopt or purchase a pet, gauge your loved one's feelings about having an animal in the home. In addition, consider what support your loved one may need in caring for the pet, such as cleaning cages, buying food or taking the pet for a daily walk.
Seniors for Seniors
Local adoption shelters and rescues may hold adoption events or have adoption programs that connect senior dogs with senior humans. Some shelters may even provide a discount on the pet adoption fee for older adults. There are also organizations and websites, such as Petfinder.com, that will find older adults their perfect senior pet match locally or nationally.
The Health Benefits of Pets
In particular, pet birds such as canaries were shown to specifically reduce depression in two separate studies in seniors in skilled nursing facilities and rehabilitation centers.
According to researchers from the University of Missouri and their study on dog walking, "The relationship with one's dog may be a positive influence on physical activity for older adults." They found that dog walking was associated with a lower body mass index, fewer limitations of activities of daily living, fewer visits to the doctor and regular exercise.
A study from the Centers for Disease Control and Prevention revealed pets can decrease cholesterol, triglycerides and blood pressure, which can cause heart attacks and strokes when levels are high. Even just petting an animal can lower blood pressure, serum triglycerides and cholesterol concentrations.
A Man's Best Friend
Another perk of pet ownership is the companionship. They provide comfort and support during times of sadness, loneliness or stress. Pets give seniors a reason to leave their houses (walks, vet visits, animal club meetups, etc.) and receive the social interaction with others that they need. Most importantly, pets provide unconditional love.
If your loved one is not prepared, has a weak immune system or just doesn't want a pet, consider other options for companionship, such senior centers, places of worships, or scheduling more get-togethers with friends, family and neighbors.
Some of our offices use animal therapy as a part of their caregiving services. Check out our featured offices and meet their furry caregivers here.