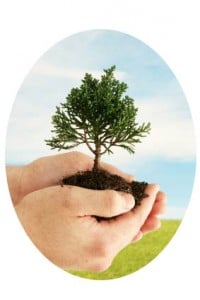 With Earth Day and Arbor Day taking place this month, April is full of reasons to think about how you can help the environment. There are some things you can do that will lead to a healthier life and help the environment.
5 Tips for a Healthier Life and Environment
Here are five tips from a recent article on Yahoo! Health:
1. Drink filtered water. There are at least 315 pollutants in tap water in America, according to the Environmental Working Group (EWG). Use carbon-based filters at home to protect your water.

2. Eat organically. The EWG created a list of the 12 fruits and vegetables that have the highest pesticide levels in them: apples, celery, strawberries, peaches, spinach, nectarines (imported), grapes (imported), sweetbell peppers, potatoes, blueberries (domestic), lettuce and kale or collard greens. Buy the organic version of these foods to reduce your pesticide exposure by almost 80 percent.

3. Eat a variety of unprocessed whole foods and grains. Eating a variety of fruits, vegetables and grains will reduce your risk of unknowingly ingesting large quantities of toxins from an unsafe food product. While most foods are safe to eat, harmful substances can get into the food.

4. Use more natural cleaning products. Conventional cleaners leave toxic residue, produce poisonous runoff that affects the water supply, and waste plastic. Use cleaning products with recognizable ingredients without the words "danger" or "poison" on the label or make your own low-impact cleaning products.

5. Go organic for cotton. Conventional cotton is sprayed with about 25 percent of the world's insecticides and more than 10 percent of the pesticides, and these chemicals are still present when you purchase it.
Following these tips will help your health and the earth. Happy Arbor Day, everyone!