National Caregivers Day is February 15 — a day to honor professional caregivers, as well as the estimated 40 million Americans who are doing the selfless work of serving as a caregiver for an aging relative or loved one.
From assisting with meals, personal hygiene, transportation and medication — it can be an all-hours-of-the-day commitment. Even the most caring family members can be stretched thin as a sandwich generation — raising younger ones and caring for aging parents all at once. And that's only if everyone lives in the same city. But more often, people need help.
It's often assistance with everyday tasks many of us take for granted — taking a shower, going to the bathroom, putting in a load of laundry — that are key to one's independence. ComForCare and At Your Side caregivers provide respectful assistance with the most personal of care, which allows clients to keep living at home, where most people want to be.
For us, caregiving is a family affair. While our caregivers work one-one-one with clients, they truly support the entire family. They provide respite care when family caregivers need a break to rest and recharge, as well as peace of mind to family members who know their loved ones are safe and being taken care of like they would.
Often, the work of caregivers is overlooked in the health care continuum and doesn't always get the respect it deserves. We're working to change that. Last year, we launched our CaregiverFirstTM program to not only aid in the recruitment and retention of caregivers, but to recognize our team members who passionately serve our clients.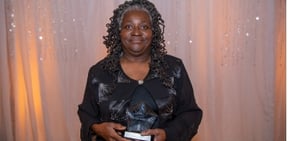 Our first Caregiver of the Year — Shirley Norwood from our Wilson/Greenville, North Carolina office — exemplifies the incredible impact caregivers have on clients and families every day — and it's not always for seniors. Among her many great achievements as a caregiver, Shirley helped a two-year-old client who was born with trisomy X and epilepsy learn how to walk and talk over the course of eight years.
It's caregivers like Shirley who inspire me to elevate the caregiving profession so people understand the value of this life-changing service.
In addition, we are working to create more opportunities for caregivers to grow professionally within home care and the broader health care system. Caregiving is a wonderful foundation for a variety of careers, and is often a stepping stone into nursing, therapy and other health care professions.
As the demand to support a growing aging population skyrockets with limited resources, it's as important as ever to recruit and retain more caregivers across the country to serve people with dignity and to help shoulder the responsibility with family caregivers.
Caregivers can make a monumental difference in a person's day-to-day existence, overall happiness and self-worth. They are at the heart of our franchise, and not only on National Caregivers Day, but every day, we need to recognize the important and selfless work they do.