If you stop to think about it, you can probably recall a time a social worker made a life-changing difference for you, your loved ones or your neighbors. Consider the social worker who fielded an emotional hotline call about mental health services. What about the social worker who reviewed that lengthy, complicated Medicaid application?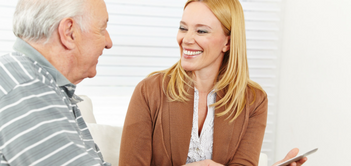 Maybe it was the school social worker who counseled an errant child about behavior concerns. Or perhaps a social worker who led the grief counseling sessions you attended after a loved one died.
Given all the impact social workers have on us personally and the world at large, it's good to take a few moments during Social Work Month to applaud their strengths:
Social workers make the world better. These dedicated professionals work to improve the well-being of all people, especially those who need protection and advocacy. There are nearly 650,000 social workers in the United States – each striving to make the world a better place.
Social workers are versatile. You can find them nearly everywhere. They work in all types of health care facilities: hospitals, skilled nursing facilities, rehabs, hospice and home care agencies. Social workers also provide services in community organizations, social service agencies, government and the military. The list goes on and on…
Social workers stand up for others. Through advocacy and support, they empower people of all ages to meet basic needs and beyond. Social workers speak up for the voiceless. They mentor and encourage the timid to find their own voices. Their collective efforts make our world more just, caring, healthy and kind.
Social workers have an important role in elder care. When it's time for an older adult to leave the hospital, a social worker helps assess the patient's needs. The social worker will assist with discharge planning and, if needed, placement into a rehab or skilled nursing facility. Social workers in hospice, skilled home care and various community organizations provide services to help older adults continue to live safely at home.
Social workers unlock doors to community resources. When someone needs to find counseling, obtain medical equipment or apply for Medicare or Medicaid, it's likely a social worker will know the answer. Social workers can help individuals and families access available resources such as medical equipment, payment sources, government programs and community services.
Social workers are excellent listeners and counselors. According to the National Social Work Association, social workers are the largest group of mental health care providers in the United States. The counseling and support they provide each day help people who are dealing with substance use, depression, anxiety and grief.
There are many reasons to be grateful for social workers. Our world is a better place because social workers stand up and make a difference!