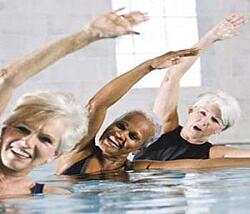 It's hot. This week, temperatures in the U.S. peaked over 100 degrees in some areas, leaving many people confined to air conditioned, indoor spaces. While this hot weather can encourage couch potatoes, it's important to stay active through every season.
Exercise is Important for Seniors
Exercise in older adults can improve immune function, increase bone density, aid digestive health and lower the risk of chronic illnesses. If your doctor gives you the go-ahead, try some of these ideas to keep active through the hot summer months:
Take the kids or grandkids to a water park. The water will cool you down and provide a fun bonding opportunity.
Walk around an open, indoor space. Malls and free museums are great spaces to use for power walking and chatting with friends.
Join a gym. Check out aerobics classes and take advantage of the equipment in an open, air conditioned space.
Swim laps. Build muscle, relax and cool off in a local pool. Use a kickboard or swim your favorite stroke.
Pop in a DVD. There is a seemingly infinite number of exercise DVDs available. Choose a low-impact yoga, Pilates or dance workout and turn your living room into a gym!
If you do some outdoor activities, like walking, gardening, biking or jogging, be sure to stay safe in the heat and the sun. Wear protective sunglasses, sunscreen and breathable clothing. Stick to shaded areas and drink plenty of water. If you ever feel dizzy or lightheaded, seek shade and medical attention. Stay safe, have fun and enjoy the warm summer season!