Did you know nearly one in five Medicare beneficiaries – approximately 2.6 million seniors – who are discharged from the hospital are readmitted within 30 days? These unplanned readmissions are not only costly (an estimated $26 billion every year in the U.S.), but harmful for patients. Who wants to get out of the hospital and get worse instead of better? Yet, research shows up to 75 percent of hospital readmissions may be preventable.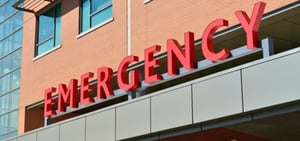 Why are people readmitted?
According to the Center for Healthcare Quality and Payment Reform, people with chronic conditions (e.g., heart disease, COPD, diabetes) are most likely to be readmitted – and not because of something that is or isn't done in the hospital but because of a lack of community support post-discharge. People, especially older adults, often are unable to:
Understand and follow post-discharge instructions

Obtain and take medications as prescribed

Schedule and attend follow-up appointments with their primary care physician
These factors contribute to poor self-management, and if someone is ill-equipped to manage their own care, they're more likely to end up back in the hospital.
How can home care help reduce readmissions?
A strong support system at home, along with coordinated care, can reduce one's risk of being readmitted to the hospital. At ComForCare/At Your Side Home Care, we have a variety of processes in place to help clients successfully transition home after a stay in a hospital, rehabilitation center or skilled nursing facility. We can:*
Obtain and review hospital discharge instructions and incorporate these instructions into the client-specific care plan

Pick up prescriptions, provide medication reminders and help the client adhere to their prescribed regimen

Educate the client, caregivers and family members on "red flag" warning signs for chronic conditions

Assist clients with scheduling and attending follow-up medical appointments

Communicate with the client's discharge planner, health coach or other health care professionals and their family members

Assist with bathing, grooming and personal hygiene

Help with meal preparation, laundry and light housekeeping

Identify trip hazards and make home safety recommendations

Provide companionship
ComForCare/At Your Side Home Care also offers a one-time "Transition to Home" package. It includes transportation from the hospital, rehabilitation center or nursing home along with help getting settled in at home. We'll even call a friend or family member to let them know when their loved one has arrived home.
When a client is being discharged from the hospital, call us at 800-886-4044 for a no obligation consultation. We can provide the extra support at home, which can help improve outcomes.
*Services vary by location. Please contact your local ComForCare/At Your Side Home Care office to see what services are available in your area.
Editor's note: This article was originally published Aug. 24, 2016. It has been revamped and updated for accuracy and comprehensiveness.