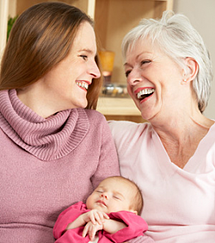 The first Mother's Day observance dates back to the late 1800s, when American women suffragettes like Anna Jarvis and Julia Ward Howe ("The Battle Hymn of the Republic") urged mothers from the Union and Confederacy to bond together to protest the death of their sons and husbands during the Civil War.
In 1908, the first Mother's Day observances took place, where sons and daughters visited their mothers to thank them for everything they've done. President Woodrow Wilson made Mother's Day a national observance in 1914, where it became a day to celebrate mothers by giving flowers, cards and gifts.
How to Celebrate Your Mom on Mother's Day
Today, sons and daughters celebrate their mothers and grandmothers in all kinds of ways. Here are a few ideas to celebrate Mother's Day this year:
Give the gift of a good meal. If your mom or grandma lives close to home, take her out to brunch or dinner. Many restaurants offer specials on Mother's Day, so be sure to call ahead and make a reservation. If she prefers to stay at home, make her favorite meal while she relaxes.
Say thank you. If your mother or grandmother lives far away, give her a call to say "thank you" or even surprise her with a weekend visit.
Tell her what she means to you. Write your own Mother's Day card to give to your mom or grandma. Using your own words is more personal and meaningful than a store-bought one, and you can customize it to tell her just how important she is to you.
Remember other moms. Get back to the roots of Mother's Day and honor a mother you know whose child or grandchild is a soldier overseas. Send her a card or flowers, or invite her over for dinner.
How are you honoring your mother and grandmother this weekend?