Summer days bring out the child in each of us. Whether you are young or old, or somewhere in-between, the hot days of summer can be filled with laughter, play and happy times together.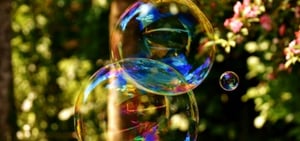 Not sure what to do while you are outside? Here are seven low-cost outdoor activities to enjoy with friends, neighbors and family members of all ages. While you are out in the summer sun, make sure all participants wear protective sunscreen and stay hydrated.
Blow bubbles

– It is fun to blow or chase bubbles. Blowing bubbles is a good way to exercise the lungs of senior adults too. You can purchase inexpensive bottles of bubbles at a local discount retailers or the dollar store.

Play a game of ring toss

– Arrange a dozen or more water bottles into a square, then toss some silicon wristbands or inexpensive bangle bracelets to see who can ring the bottles. Adjust the rules to fit the ages, sizes and skills of each contender. Winners earn bragging rights or even a small treat.

Splash in a kiddie pool

– Getting just a little wet takes the heat off the day. Dangle your toes in the water and just relax. A plastic dishpan can work as an inexpensive alternative for engaging in water play. Those who are more adventurous and swift-footed may prefer to dash through a sprinkler.

Frolic with water balloons

– Filling up those slippery balloons is half the fun. It's a science experiment too – how much water can that balloon hold without breaking? Whether you toss those oh-so-full balloons carefully or not is up to you. Promptly throw away the remains of broken balloons as these can become a choking hazard for young children, adults with dementia and animals.

Make lemonade or infused water

– Squeeze lemons, add cold water and a little sugar into a glass, then stir, and you end up with fresh lemonade. For a refreshing beverage with no-added sugar, try using a twist of lime, a slice of cucumber, a handful of berries or a zany combination of fruits or veggies. Name the special drink for the creator. Add straws and festive, unbreakable cups to liven up the party.

Picnic on the lawn

– Something as simple as a peanut butter and jelly sandwich tastes better outside, whether you sit a picnic table or on the grass. Include a few carrots sticks and a piece of fruit to round out the meal.

Hold an impromptu parade

– Add a little pizzazz to your usual neighborhood walk. Decorate a bike, a wagon or a wheelchair with crepe paper streamers and signs. Bang some pots and pans. You can sing a lively song or play a march on your smartphone. Adorn participants' heads with baseball caps, paper crowns, ribbons or even plastic bowls. You will brighten up the entire block with your antics.
Engaging in activities, inside and out, can create better days for your aging loved. Our trained caregivers are also available to provide customized Meaningful Activities for older adults in the comfort of home. Download our guide to learn how Meaningful Activities bring older adults joy and purpose.

Contact your local ComForCare/At Your Side Home Care location today to learn how we can help you live your best life possible.
Editor's Note: This article was originally published June 28, 2016. It has been revamped and updated for accuracy and comprehensiveness.