A cancer diagnosis can change many aspects of daily care for elders. Patients often wish to remain at home after the diagnosis, as staying close to family and familiar surroundings can be comforting. However, changing needs may cause elders to need more regular and extensive care than family members are able to provide. Having a home care agency assist family caregivers with cancer care can help seniors to receive the highest quality care possible. After a cancer diagnosis, family members should take several steps to determine how to best provide home cancer care.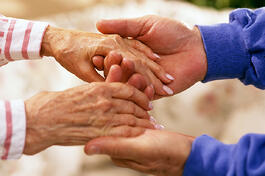 Assess Needs
Needs may differ greatly for seniors with cancer. The type and staging of cancer may determine what types of treatments are best, and patients may have differing preferences for care and treatment. Seniors may need transportation to medical facilities regularly or may need assistance with medical equipment that is needed in the home. Lifestyle changes may also be recommended by doctors, requiring greater attention to diet, exercise, and other daily needs.
Learn About the Diagnosis
Learning about the intricacies of a cancer diagnosis can help family members understand much more about changing behaviors or health in their loved one. A cancer diagnosis has emotional effects as well as physical effects, so these should not be overlooked. Performing individual research as well as talking to health care professionals can help family members to gain greater personal insight into what their loved one is facing.
Determine Realistic Care Schedules
After needs have been assessed and loved ones have a practical view of what cancer care will entail, it will be possible to determine a realistic care schedule and routine. Family members should be completely realistic when determining this schedule as opposed to hoping for ideals. If work days are long and there are frequently other errands to run afterward, family members are better off saying that the only time available to assist with care is on weekends than saying that nights are available and then not being able to show up for these times. Family members can work together to fill in the gaps, hiring a home care provider to fill in the gaps when needed.
Seek Support When Needed
A cancer diagnosis can put pressure on the family. Family members may be emotional about the diagnosis, stressed trying to figure out the financial situation, strained trying to provide care when it is needed, and physically tested attempting to provide care. It is important that family members seek support when it is needed. Support can be in the form of a group meeting, family gathering, or caregiver respite that allows a little free time. Seeking support when needed can help family members to ensure that loved ones are receiving the best at-home cancer care possible.