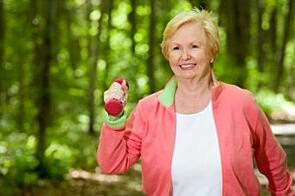 Now that spring has arrived you're probably going to be more active, as well you should be. But even though the ice is finally melting, the increase in physical activity also means the increased likelihood of losing your balance and potentially incurring serious injury.
Thankfully, the Ohio Department of Aging—yes, that's really a thing—has come out with a list of proactive steps boomers can take to decrease their chances of falling. As part of the department's Steady U Ohio initiative, here are a few things you can do to keep a bounce in your step and stay safe while doing so.
First, getting 15 minutes of simple exercise a day—walking, biking, and even gardening are defined as "simple" by the initiative—not only provides obvious health benefits that everyone knows about, but it also strengthens your sense of balance. Moreover, exercising allows you to gain confidence and increase your level of control over your body.

A balance or strength training class can also help prepare your body for physical activities. Best of all, there are many classes made available specifically for seniors, some of which are even free at community centers and local care centers.


Steady U Ohio also recommends speaking with a health care provider in order to get an assessment of your falling risk. A professional assessment will keep you informed of what you should be on the lookout for in terms of balance issues.


Reviewing the medication you take with your doctor or pharmacist is always a good idea anyway, so it's no surprise that Ohio's balance initiative also encourages keeping up-to-date with a medical professional about what you take. Some medications can affect balance by causing dizziness.



Likewise, it is recommended that you eat regularly, particularly vegetables and high-calcium foods. Not only does doing this keep your strength up, but calcium-rich foods help prevent osteoporosis and the dangerous injuries it can lead to in the event of a fall.
It doesn't take an expert to realize that falls can be tremendously dangerous, causing serious injury and, in some cases, death. According to the Steady U Ohio website, falls are the leading cause of injury-related hospitalization and death among Ohioans 65 and older; it's not a stretch then to say that that figure probably holds true around the rest of the U.S. too.
Thankfully, taking a few proactive steps can help prevent a problem that plagues so many elders. Maintaining your physical health and therefore improving your balance is also about maintaining a balanced lifestyle. Do that and you can enjoy the beautiful weather without worry. Read more from our blog on healthy seniors.