People of every age share a handful of basic needs. Among them are food, water, shelter and feeling loved. A recent report in the Archives of Internal Medicine showed the effects of loneliness, described as a lack of meaningful contact with others that leads to painful distress, on adults over 60. Over six years, 24.8 percent of lonely older adults in the study lost some ability to perform daily living tasks, like bathing, eating and dressing. These seniors were also 45 percent more likely to die than other people their age who felt they had meaningful connections in their lives.
Look for the Signs of Loneliness in Your Elderly Loved One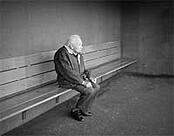 Being part of a family or part of a community doesn't guarantee feeling included. Be on the lookout for signs of loneliness in your loved ones and follow these tips to help them:
Share one meal a week with an aging adult in your area. Whether it's a family member, friend or neighbor, he or she will appreciate the company and hospitality.
Call just to say hi. Just knowing that someone cares and is willing to listen for a few minutes can make an older adult's day.
Ask for stories. Show you care by enquiring about your loved one's past. What was her favorite childhood memory? How did he meet his wife? What was their favorite vacation?
Show kindness to a stranger. Some older adults who feel lonely don't know how to reach out for help. If you see a senior by him or herself, stop to take a moment and see if you can make their day a little better. Help carry groceries to the car, give a compliment or just chat about the weather.