Have you ever seen a job posting like this?
WANTED: Caring person willing to work as necessary, from a few minutes a day to 40+ hours per week. Duties may include: meal preparation, medication management, housekeeping, transportation, financial tasks, and/or assistance with bathing, dressing and toileting. Progressive responsibilities may require complex medical care with minimal training. Potential unreimbursed costs, infrequent breaks and increasing stress. Hourly pay - $0.
You might expect that no one would accept a role like that. You'd be wrong. Despite the immense challenges, nearly 40 million Americans provide care every day as unpaid caregivers for adult relatives or friends. Of course, no one applies for this job. Instead, it typically begins with little tasks of love, which expand with each passing week or year.
For example, a family member (often a daughter or daughter-in-law) assists Mom with transportation to the store, managing finances or doing yardwork. Within a year or two, this caring daughter helps out for a couple weeks as her mother recuperates from hip surgery. Then, as Mom grows more confused due to dementia or when Dad has a stroke, this loving family member puts in hours upon hours a week as an unpaid caregiver. To do this, she may have to cut back her paid employment or quit work entirely. If she's one of the 28 percent of family caregivers with children or grandchildren at home under age 18, the kids may also be asked to help or even give up their bedroom so their ill or aging relative can move into their home.
While there are certainly rewards, caregiving for a family member can be demanding, unpredictable and stressful. It's important for caregivers to take charge of their well- being. A 2015 survey of caregivers found caregivers who spend 21 hours or more a week caring for a loved one are more likely to experience emotional,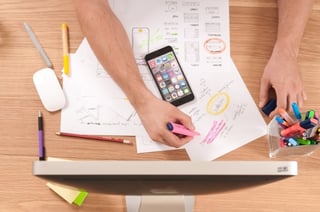 physical and financial stress, depression and other health concerns. According to the survey, some of the most vulnerable caregivers are older themselves, do complex, high burden care or provide the most hours of care weekly.
Unfortunately, no one can control every aspect of caregiving; however, similar to other jobs, there are ways to structure the workload to manage caregiver stress in positive ways. Here are eight ideas for you to consider:
Think and plan ahead – What are the current care needs of your loved one? How do you expect those needs to expand in the future? Since nearly 90 percent of older adults want to continue to live at home as they age, what accommodations, such as ramps or shower bars, will your loved one need? Are there sufficient financial resources available? Does your aging relative have an advanced directive to guide future health care decisions? Making plans and decisions now can help prevent a crisis in the future.
Prioritize and simplify – Figure out what's most important, then be willing to let go of what might not be essential. That can include excessive household possessions, elaborate family traditions or unrealistic personal expectations. Get rid of clutter in the environment, if you can. According to best-selling author Gretchen Rubin, outer order contributes to inner calm. Decrease your own stress by shortening the to-do list. Then, savor the satisfaction that comes as you complete a single task.
Be flexible – No matter how well you plan your day, things happen, especially when caring for an older adult in fragile health. Medical situations may arise unexpectedly due to falls, dehydration, acute illness or chronic health conditions. The 2015 AARP caregiver survey found 53 percent of care recipients were hospitalized during the previous year. You never know what a day might hold for you.
Welcome technology – The latest advances in technology, as well as tried-and-true assistive devices such as walkers and reachers, may help your loved one function more independently. A personal fall-alert system or anti-wandering device can bring you peace of mind. Various technologies can allow you to monitor medication use or the home environment when you aren't around.
Find pleasure in your work – Look for little ways to make care enjoyable for you and your loved one. For instance, once a care task such as getting dressed is done, have a cup of tea with your loved one. Try adding a favorite song to the caregiving routine and celebrate each little success. Make sure to build some downtime into your day so you maintain the energy you need for caregiving.
Develop a team – Around 53 percent of family caregivers of elderly or disabled adults get unpaid help from someone else. So be proactive. Enlist other family members and friends to share the caregiving load and assign specific ways for them to help. Identify and utilize community resources such as a local senior day care, Meals on Wheels and in-home care. Your local Area Agency on Aging can be a resource.
Delegate – Your potential assistants won't do you any good if you won't let go of some of the duties. Teach your would-be helpers about your loved one's preferences and routines – then let them take responsibility. Gently monitor the situation and provide reassurance and constructive feedback as necessary.
Reward yourself – Even the most dedicated caregiver needs a break. It's a chance to do something just for yourself – a nap, a shopping trip or lunch with friends. Schedule time off so you can take care of yourself. You may want to join a caregiver support group where you can let off steam and learn practical care tips from others. Even though you don't receive a paycheck for your efforts, be sure to give yourself credit for all you do for your loved one.
ComForCare/At Your Side Home Care can help you with caregiving so you get the time off you deserve. Our trained caregivers are available to provide in-home personal care a few hours a week or around the clock. With our help, you can live your best life possible.