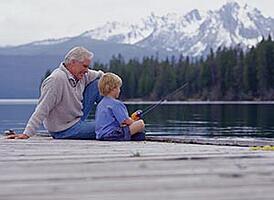 Since President Nixon made Father's Day an official holiday in 1972, fathers across the country have been doted upon with neckties, fishing gear and golf clubs on the third Sunday of each June. This Father's Day, remember all the dads in your life: your husband, son, neighbor, father and grandpa. While this holiday usually denotes tangible gifts, giving an experience can be just as nice.
How to Celebrate Your Father or Grandfather
Consider these gifts for the father or grandfather in your life:
Give the gift of memories. Create a photo book or frame a photo of dad and his kids to remind him of all the great memories together.
Find an activity you both enjoy. Go to a baseball game, go fishing or play a round of golf. If you've never played, have your father or grandfather teach you about something he loves.
Make something together. Have a handy dad or grandpa? Find a project that you can work on together: build a birdhouse, refinish a piece of furniture or construct a tree house for the younger generation.
Go on an adventure. If you have a travel-happy dad or granddad, take him on a trip. Road trip out to find the "world's best waffles," take a weekend vacation to a beach or visit a weekend summer festival in a nearby city.