When night closes in, keep your guard up. However, don't waste time looking for monsters who lurk under the bed. Or, wait for restless ghosts to prowl the halls. Rather, be aware of the potential hazards that might cause nighttime falls.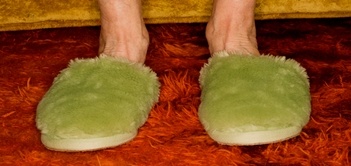 According to the National Institute on Aging, more than 1 in 3 adults age 65 and older falls each year. While most falls in older adults occur during the day, a global report from the World Health Organization states 20 percent of falls occur at night. These falls may happen due to factors from within (such as aging) and without (the environment).
Here are eight suggestions on how older adults can protect themselves from nighttime falls:
Light the way. Make sure there is adequate nighttime lighting. A simple solution is to plug in some automatic night lights that turn on and off based on the level of light. Consider leaving the hall light on for extra brightness in the middle of the night. There are also sensor lights that can light up the toilet bowl or turn on when you get up from bed.
Move with caution. Getting up too quickly from a resting position in bed may cause dizziness due to a drop in blood pressure. Stiff joints may interfere with quick movements. Certain medications may cause disorientation or confusion. So, sit up slowly and take a deep breath before standing.
Wear non-skid slippers. Bare feet or slippery socks might lead to a fall and don't protect against stubbed toes. Encase feet in protective footwear before walking about at night.
Reach for those spectacles. It's already hard for aging eyes to see in the dark. Older adults who rely on corrective lenses during the day should bring the surrounding darkness into clearer focus at night by putting on their glasses.
Clear the path. Remove any obstacles from the floor near the bed – including shoes, clothing, books or newspapers – and in the halls. This will make that urgent late night trip to the bathroom so much easier.
Keep pets out of the way. Crate pets at night or put their bed in another room with the door closed. Otherwise, when Puff makes an unexpected circle around the ankles or Fido jumps up in eager greeting, they could become a trip hazard.
Practice for a fall. Know what to do in case of a fall. Consider these tips, adapted from National Institute on Aging:

Stay calm
Take several deep breaths and remain still for a few moments
Decide whether you think you can get up safely on your own
If so, roll onto your side
Rest a moment so your body can adjust
Then slowly get on your hands and knees
Crawl to a sturdy chair
Put your hands on the seat of the chair
Slide one foot forward until it is flat on the floor, while the other knee continues to kneel
From this position, rise slowly and turn your body to sit in the chair

Be prepared just in case. Older adults who live alone should carry a mobile phone or obtain an emergency response system (with a pendant or wristband) to call for assistance if a fall occurs.
ComForCare/At Your Side Home Care is available for around-the-clock care. If concerns about nighttime falls, keep you awake at night, ComForCare can help with in-home personal care and companionship services. For more ideas on how to prevent falls at home, download "Reduce Fall Risks at Home."