Washington Post discovered an interesting new trend recently: classes for how to age gracefully. At first blush the idea sounds ridiculous; aging isn't something like calculus or history that one would think could be taught. But hosted by nonprofit organization Iona and encompassing methods to live a communal life, through what's known as "co-housing," instructor Ann Zabaldo is imparting how fostering tight knit relationships with others of a similar age can also serve to foster an environment of mutual care. In her words, "Nobody is ever going to care for you the way people who know you are going to care for you."
With classes that include "What, Me Move?!", "Take Charge of Your Aging 101" and "O.M.G. I'm Middle-Aged! Now What?" the topics the courses cover run the gamut from health and wellness tips, to buying a home as a boomer and estate planning. Beyond educating students, the overall aim of the courses is to empower, inspire and impress the value of community to help those aging.
The courses, which last from four- to eight-weeks, are designed to assuage some of the anxiety many men and women feel as they age. The article suggests that boomers hold a unique perspective on aging that serves as a mixed-blessing: boomers are more active than their parents at their age but as a consequence, are less inclined to perceive themselves as being older. While that can be great for one's self-esteem, it can also prevent long-term thinking and planning for a time when they may not be as spry.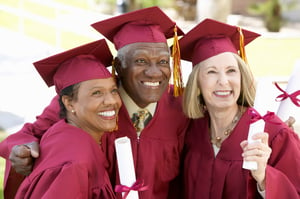 The concept of co-housing, originating in Denmark in the 1960s, is a crucial component of the ideology behind the courses. The concept came to the U.S. in the 1970s, brought over by architects that observed its success in Denmark first-hand. Pointing out the rising costs of real estate in conjunction with the obvious value of living among others, Zabaldo suggests that it's never too late in life to form bonds with others.
Regardless of where you're at in life, the idea that it's never too late to learn something new or make a new friend is pretty inspiring. An old dog can, it turns out, learn a new trick after all!