As daylight hours get shorter and temperatures drop, many seniors begin to experience feelings of sadness, loneliness, and even anger. These feelings can occur in anyone during the colder, darker months of the year, but can be even more severe in seniors that live alone and go long periods of time with little to no interaction. These feelings can have a negative impact on eating and sleeping habits, and can affect energy levels. However, there are ways to fight off these winter blues and keep the enthusiasm alive.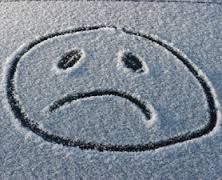 Increase Socialization
Socialization is often cited as the best way to reverse the negative effects that winter can have on the mood. Family members should make it a point to visit elder loved ones more often in the winter and attend senior events and gatherings as often as possible. If busy schedules prevent frequent visits, family members can seek assistance from home care services. Home care services regularly provide senior transportation to events in the area and home caregivers can be a source of comfort and companionship.
Light Up the House
Sunlight triggers the production of serotonin in the body, which boosts mood. When there is less daylight, the body naturally produces less serotonin, which can have adverse affects on the mood. In order to combat this, seniors may try waking up when the sun comes up and opening the curtains to let as much light as possible into the house. In areas that experience many cloudy, grey days, it may be helpful to purchase artificial lights that replicate the sun's natural light.
Encourage Exercise
Exercise increases the serotonin levels in the body, which can help to naturally balance out the decrease in serotonin levels caused by the decrease in daylight hours. Exercise can also help to combat lethargy and weight gain, both of which are common in the winter. Exercising outdoors can help seniors to get a breath of fresh air and to get out of the house, which can also be helpful in combating blues.
Watch Nutrition
Another side affect of low serotonin levels are cravings for carbohydrates and high-sugar foods. These foods raise serotonin levels, but can cause weight gain and "crashes." Proper nutrition can naturally raise serotonin levels and energy levels. Caregivers and family members can make good nutrition fun for elders by working together with them to come up with delicious and healthy meals, snacks, and desserts.
Promote Winter Hobbies
Winter hobbies can help seniors look forward to winter instead of dreading it. While skiing and ice skating may be a little too extreme for most seniors, hobbies like winter photography and nature observati5 Tipcon can make the season fun. Everything is more fun when done with someone, so caregivers and loved ones can help promote these hobbies by taking an active interest and participating.