It can be difficult to know what to say and how to approach your parent, grandparent or other elderly relative about the sensitive topic of long-term care. Your loved one may feel as if they are a burden or that you no longer care about them. It may also be hard for them to admit they need assistance.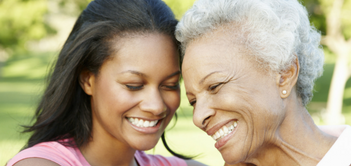 Here are five ideas on how to communicate effectively with an older adult in your life.
Be proactive. The sooner you bring it up, the better. Often, families wait too long and an illness or injury forces people to seek care for their loved one in a limited amount of time. It's common for hospitals to discharge patients with little notice, leaving families scrambling to arrange care. This stressful situation can be avoided by exploring options before a crisis occurs.
Be open. Before having "the talk," let your loved one know about your desire to discuss the topic. Remember, this isn't an intervention — you don't want your loved one to feel taken aback. Let them know you love them and would like to talk about their future and set up a time to have the discussion.
Be prepared. Before talking with a loved one about long-term care, do some research. Find out what options are available. Have a clear idea of what you want to say and prioritize the topics you feel are most important to discuss. If your loved one has concerns about accepting care, reassure them that additional assistance will help them be more independent, stay in their own home longer and provide more time to enjoy life.
Be a good listener. As you discuss the options together, be sure to consider your loved one's preferences. How do they want to spend their days? What's important to them? What questions or concerns do they have? Make sure it's a two-way conversation and you genuinely consider their priorities. If you have concerns, express them in a loving manner and use persuasion rather than arguments.
Be patient. Conversations may not always go smoothly but don't give up. It may take a few tries before your loved one is ready to accept assistance.
For more ideas on how to get the conversation started, download our e-book: Important Things to Discuss With Your Aging Loved One. It covers a variety of topics including signs it may be time to consider home care and how to talk about driving with older adults.