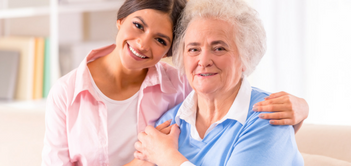 To the mothers, grandmothers, aunts, sisters and all those other female figures in our lives who embarrass and encourage us, we say a collective thank you.
We fail to express our appreciation nearly as often as you deserve. Know that we love you and are grateful for your presence in our lives.
She Is the Song in My Heart
By Janine Savoie-Abramson, executive assistant
In 2012, my brother, sister and I celebrated our mom's 80th birthday with a party for her and her closest friends and neighbors (of which there are many). As my brother's present, he wrote and sang a song, "That's My Mom." This song is about her life and how she "always gave and never took for herself." My mom is truly a selfless person and genuinely nice to anyone she meets, and I am forever grateful that I am able to call her my mom. You can listen to the song on YouTube by clicking the link here.
The Inspiration for My Life's Work
By Deborah Bier, PhD, director of special populations
Sayde, my maternal grandmother, was such a vital person in my life. In fact, it was an interaction with her that foretold my life's work being with elders. When I was 19, she was hospitalized for cancer and was (now that I look back on it) likely experiencing hospital delirium during our visit. She was wailing and disoriented. I sat down with her and talked quietly to her. I showed her some old family photos I had brought. She calmed right down and started smiling — this was the grandmother I knew and loved so well! It was an amazing transformation right before my eyes, just through the power of our relationship and engagement. I always carry this with me as I create training programs for family and professional caregivers. The power of loving, personal engagement is a supremely mighty tool!
Tell Her Today
By Helen Beamer, community enrichment director
In 2011, I read a book by John Kralik about how expressing thanks has the power to transform and inspire you and those around you. I was trying to be more proactive in writing thank you notes and was doing a pretty good job of being grateful with people in and around my workplace. However, I hadn't put this into practice quite so thoroughly with my family.
It was Mother's Day, and I had promised my 89-year-old mother I would take her on some errands. I was running a little behind that day and wondered if I should take time to write some words of appreciation on the Mother's Day card I had dutifully purchased for the occasion. I hurriedly scrawled a few lines amidst the purple flowers on the card: "Thanks for being a good listener and for caring about the people I love. I am very grateful I can talk to you, and you can still respond to me in 'motherly' ways. It's nice to have a mom!"
Mom was wearing a bright blue dress that sunny spring afternoon. We shopped at a couple stores, and I noticed how a clerk was especially kind to my mother during checkout. Despite my mother's lifelong love of sweets, I couldn't persuade her to enjoy a treat with me in honor of the day. So, before I left her apartment, I presented my card, saying nearly the same words of thanks directly to her. My mom, in her typical reserved fashion, didn't give out a hug or say anything too sentimental in return.
The very next Sunday, my mother had a heart attack that left her seemingly unresponsive and resulted in her death a few days later. In the midst of that devastating time, I was so very grateful I had already told her everything I needed to say while she was still full of life. Unexpectedly, with those few words of thanks, I was able to tie up all the lingering loose ends of love. That card became an enduring gift of consolation for me.
So, be sure to tell Mom and other dear ones in your life of your love, using whatever words you have at hand and in your heart today.
Love and Laughter
By Haley Kotwicki, communications specialist
Before I start recounting my adventure with my mother, I must say that Ma and I are best friends. However, she was never the type to try being my peer as some parents are wont to do. I always knew she was the boss, and I respected that. We became best friends as I've grown older and started to see her as a person made up of millions of facets: chef, caregiver, widow, etc., not solely Ma. Thus, as a friend, I get the honor of razzing her from time to time, so why not today.
Ma is a klutz. She won't admit it, but she is more accident prone than a puppy potty-training. Working with her on household chores is a balancing act between monitoring her safety and making sure what she is using or holding doesn't break.
A few years back, we were raking fallen leaves out of our flower boxes. We had plans to turn the dirt and plant some lilac bushes. While cleaning, my mother spotted boxelder bugs skittering under the siding of our home. If you don't know what a boxelder bug is, count your blessings. These six-legged black and red ovals have a particularly disgusting aroma and gather into a mass of pulsating clicking shells. They will seize patio furniture, plants and anything you hold dear. That day, it was the siding. Ma had decided to knock some bugs loose before they could find a way inside the house. She started rapping lightly which turned to pounding. Boxelder bugs came flying out, but Ma's hand went flying in. Yes, she had punched her way into our house and successfully shattered a few tiles. My mom is the Muhammad Ali of house-boxing.
Now, you may ask: Did she stop the bugs' invasion? Did you fix the siding? Has she tried to beat up your house again? The answers are: no, yes and yes. The boxelder bugs spent a cozy winter in the siding and returned the following year to ruin everything. My dad had mended what he could, but there remains a perfect fist-shaped patch even today. Ma seems to hold some sort of grudge with our home due to their history of brawls; Ma has ripped the bathroom sink from the wall, cracked plaster, demolished chairs, smashed another hole in the siding, etc. It may seem she is the reason why we can't have nice things, but her clumsiness is just one of the things that that makes her… her. And, I love every part of her.
Wistful Reflections
By Olivia Bellefleur, with an introduction from her mother, Shannon Bellefleur, digital marketing director
My daughter Olivia turned a school writing assignment into a family treasure. She captured enduring memories of visits to her grandmother, Olive Crawford (for whom she is named), with her heartfelt poem.
Olive Marie Crawford
Raspberries and rosemary
A pear tree, and garden
And who could forget the dull orange
Of the linoleum kitchen tiles?
Dust and herbs, of course
The rope-swing that always hurt my hands
An old tire and gasoline
And decade old ribbon candy (probably)
The doorway marked with memories
Thick carpet and creaking floors
Warm bread and blackberries
The piano in the corner, always out of tune
Your voice always shook
A soft rumbling vibrato
My namesake, kind and stern,
I wish I had known you better