Worried About an Older Driver? How to Have "The Talk"
"When did a simple trip to the grocery store become so dangerous? Is that a traffic ticket on the floor? Oh no, she is using two feet to drive, and this isn't a stick shift! Gosh, I haven't stomped on the imaginary brake pedal this much since Jimmy was 15 years old and learning to drive. I can't let her drive back home. Maybe she shouldn't be driving at all."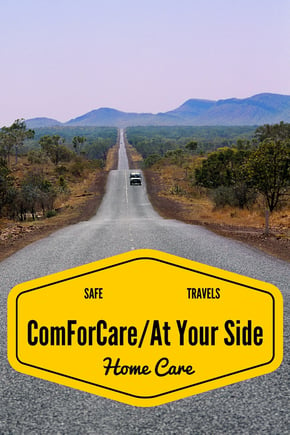 Have you ever had this experience? Family members often worry about their aging loved one's ability to continue driving safely and with good reason. Based on a study by the Federal Highway Administration, there were about 23.6 million licensed drivers 70 and older in 2013. If your loved one's driving skills have diminished endangering others on the road, you may need to have that talk. It can be uncomfortable and awkward. However, it's worth it.
About 586 older adults are injured every day in crashes, according to the National Highway Traffic Safety Administration and the Department of Transportation. The risks climb higher as the driver ages. Fatal crash rates increase at ages 70 to 74 and peak at age 85 and older, according to the Centers for Disease Control and Prevention. The natural weakness in older bodies can lead to more severe health consequences.
To help assess whether an older adult is no longer safe driver, here are some warning signs from the National Institute on Aging:
The driver does not follow the rules of the road, such as speed limits and the right-of-way.
There are multiple "new" dents in the car from accidents or near-accidents. Some drivers may not notice these.
The driver confuses the gas and brake pedal.
Issues with vision, hearing or movement hinder the driver's abilities. When eyes, ears and flexibility deteriorate, the driver could miss traffic signs, fail to hear horns from other cars and could be unable to turn the steering wheel.
If your loved one does not believe there is a problem, enlist their doctor, friend or relative to help persuade them.
How Should You Begin the Conversation?
Scott Greenburg is a host on the radio show "Oh My God, I'm Getting Older and So Is My Mom" and president of Palm Beach ComForCare. His book, also titled "Oh My God, I'm Getting Older and So Is My Mom," tackles issues concerning caregiving for an elderly parent. In his chapter about driving dangers, Greenburg says to approach the subject with compassion and consideration.
"If you are accusatory or critical, your parent is likely to become defensive, will probably dig in and you'll find yourself running into a big psychic 'STOP' sign," said Greenburg (p. 38).
Hanging up the car keys removes a bit of your loved one's independence. It's important to view this from their perspective. Your parent may feel sad that the ability to drive wherever and whenever is gone. Your parent may be indignant, incensed and isolated. Even though it may be difficult, the goal is for your loved one to continue to stay active and participate in favorite activities while being safe.
Contact ComForCare/At Your Side Home Care can help. Contact us for transportation services so your parent can continue purling at the knitting club, winning at the bingo hall or laughing at a comedy in the movie theater. It's just one of the 50 ways we can help.