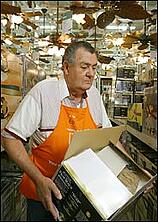 The St. Louis American recently published an article about how unemployment rates have tripled for senior lower-income workers. The National Academy on an Aging Society also reported unemployment for senior lower-income workers tripled to 20 percent from 2000 to 2010. The article further states, "resources to put these people back to work are dwindling".
More Elderly Are Living in Poverty
Just a few weeks ago, we posted a statistic on our Facebook page that said, "While the number of children under 18 living in poverty has decreased over the last year, the number of elderly living in poverty has jumped from 9 percent to 15.9 percent. This is mostly the result of out-of-pocket healthcare costs."
Not only is our senior population struggling to keep their heads above water, but the government is making it more difficult for them to maintain jobs. It's a vicious cycle. The St. Louis American article hears from the director of the Senior Community Service Employment Program (SCSEP) with MERS Goodwill, a community service and work-based training program for older workers. The program has had a hard time providing jobs for older workers since the Obama administration and Congress agreed on a federal budget that cut SCSEP funding by $375 million, a 45 percent reduction from the 2010 level. There are now more than 400 people on the waiting list.
If programs like this, specifically designed to help older Americans stay in work, continue to fall by the wayside then poverty levels amongst the elderly will remain at a ridiculously high level. What can be done to combat this growing issue? Comment on our Facebook page!