It can be hard to admit that your parents or loved ones are getting older. When my elderly father got sick, it was quite a wake-up call. It came as quite a shock to both of us to discover that not only could he no longer help other people, but that he was in need of help himself.
My father, who was a constant source of inspiration to me in the way he devoted his life to helping others, spent thirty-five years working in humanitarian aid. He often travelled to some of the world's most troubled regions — countries beset by wars, extreme poverty, famine and natural disasters — in order to provide whatever assistance he could to those in need. Acknowledging that he needed help for himself now was a difficult adjustment, but I soon realized that home care services were one way I could give back to him the same care that he had made his life's work.
Home care services come in many forms and offer many different levels of care. Providing in-home care for those who provided you with love and support throughout your life is not about outsourcing the duties of home care. It is about making sure your loved one is able to enjoy the best quality of life. This may be as simple as making some adjustments to their home, or employing the services of a qualified caregiver a few times a week to ensure that they are receiving the appropriate level of care for their condition.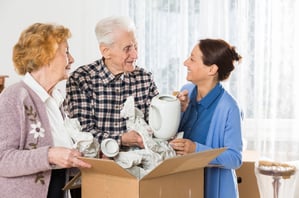 A Personalized Care Plan
The most important thing is to get the right kind of home care services for your parents. Home care services need to be personalized, and the needs of each senior citizen determined through an evaluation by a qualified professional who understands the imperatives of senior care, but is also sensitive to the preservation of clients' dignity.
Let us help you provide your loved one with the care they need while still respecting the independence they value. Schedule a free in-home assessment of your loved one's needs with us today.