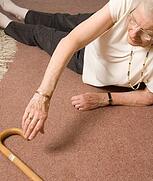 As we age, we become more susceptible to falls. According to the Centers for Disease Control and Prevention, one-third of Americans over the age of 65 fall every year. Additionally, falls are responsible for most of the broken bones and fractures found in older adults. Considering these factors, there is a significant risk that your loved one may suffer from moderate to severe injuries from a fall.
The Importance of Fall Prevention Education
While the risk of injury from a fall is an important motivator to understand fall prevention and safety, you should consider other factors. For instance, it's possible that a senior could face a long hospital and rehabilitation center stay, as well as the potential loss of independence, as the result of a fall.

Learn NOT to Fall has released the following statistics to further stress the importance of Fall Prevention:
Falls account for 25% of all hospital admissions
Seniors who fall are two to three times more likely to fall again
Falls are the leading cause of death due to injury for the elderly
Five Household Areas to Fix in Order to Protect Your Loved Ones From a Fall
What makes these fall statistics disheartening is that you can prevent falls caused by hazards. That's why the experts at ComForcare Senior Services have created a comprehensive Fall Prevention Checklist to help you fix on common problem areas in the home. It's important to make sure your loved ones can live as independently as possible. Fixing any issues within their homes will go a long way to achieving that goal.

Five Household Fall Prevention Focus Areas
Kitchen: Make sure most used utensils are within easy reach
Entrances & Stairs: Fix any loose or uneven steps and install light switches at both ends of the stairway
Bedroom: Verify there is a clear path to the bed
Floors & Walkways: Remove floor obstacles
Outside: React to the elements - salt in the winter; mow the lawn regularly in the summer; pick up leaves in the fall
These are just some of the great tips and fixes you'll find on our Fall Prevention Checklist. Whether your loved one is making the transition to in-home care, or is still living independently, these tips will help decrease the risk of a fall within the home. If you have any more questions about Fall Prevention, please don't hesitate to contact one of our experienced caregivers at (800) 886-4044.

Next Steps