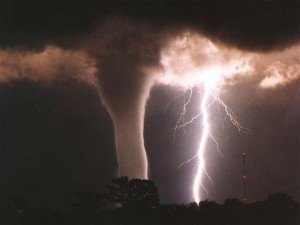 The past couple of days have shown us just how powerful Mother Nature can be. With tornados and severe storms hitting much of the U.S., it's only appropriate to offer a refresher on disaster preparedness. Consider this, 60% of people who died in Louisiana during Hurricane Katrina were older than 60.
Help Your Elderly Loved One Stay Safe From Storms
Be sure to have a conversation with your older loved ones today about what to do in case of emergency so that everyone remains safe and unharmed!
Establish a "safe room." Discuss with your family members where you will go in case a tornado hits. Be sure it's on the lowest floor of the building and has no windows or glass doors.
Create a "Grab and Go" kit. Fill a duffle bag or bin with cash, a phone charger, clothing for each family member, irreplaceable family heirlooms, extra medications, a blanket, a battery-operated radio and a list of important phone numbers.
Make a plan. Be sure to talk to a senior loved one who lives independently about what plans they already have in case of emergency. Who will call them to make sure they're okay? Where will they go if they need to evacuate? Is there a close friend or relative who can help get them to a safe location? Also, meet with neighbors so that you can all come up with a strategy to keep one another safe.
Ask questions. If your older loved one lives in an assisted living facility or senior community of some sort, be sure to talk to the facility staff and management about what type of disaster plan they have in place. Will your loved one be safe and accounted for? Will they call you or an emergency contact if need be? Does the staff have a plan in place to help less mobile patients? Don't be afraid to ask questions and get answers.
For more information, visit http://www.ready.gov/tornadoes.