Do you remember when "app" meant application? As in, "Did you fill out an app for that job?"
Well now, it means you can have just about whatever you want at your fingertips through your smart phone or tablet. There are thousands to choose from, but here are four of our favorites for the 50 plus crowd.
Silver Surf – This web browser enlarges the navigation buttons (Go, Back, Forward, Stop, Reload) and makes it easier for users with less dexterity in their fingers or low vision. It can also zoom into text up to 200 percent.
Some benefits of the app include:
It is compatible with iPads.
It is free.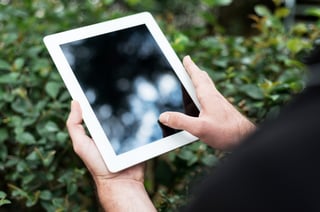 Lumosity – Developers have transformed cognition tests created by scientists mini mind games. Lumosity says their games will keep your mind sharp by working to enhance memory, attention and other skills. After each game, you can see your results or scores.
Specifications of this app are:
It can be used with iPhones, iPads or Android phones.
It is free.
Pillboxie – This is a virtual pillbox to match your real one. With this app, you can set alarms for doses and track your level of pain or mood. You can also customize the design of the pill to match your actual pill.
Advantages of the app are:
It is compatible with iPhones.
It costs about $1.
Yoga for Adults & Seniors: For Increased Mobility & Flexibility – A yoga instructor will guide you through stretches and sequences tailored for adults and seniors. It's also beneficial for those of all ages with restricted mobility.
Specifications for this app include:
It can be used with iPhones.
It costs about $4.
If you would like to discover more apps, you can click here if you have an Apple product or click here if you have an Android device. The Apple link will take you to the Apple Store and the Android link will take you to the Google Play Store. Both have apps for music, games and so much more. You can click here to learn more about downloading apps on an Apple product or click here to learn how to install apps on an Android device.
Apps can simplify life and make each day run a bit more smoothly. However, if you need some extra help to remember your pills or someone to challenge your mind with a board game, call ComForCare/At Your Side Home Care today. These are just some of the 50 ways our in-home care can help you live your best life possible.
We do not receive any form of compensation by any of the companies whose products we write about. The opinions expressed are solely that of ComForCare Health Care Holdings, Inc. ("ComForCare") and have not been independently vetted or reviewed. Prior to using any product (app, software, hardware, etc.) discussed or referenced on this blog, please be sure to conduct an independent analysis of its benefits, costs, and obligations. ComForCare is not responsible for any relationship developed by and between you and the companies that own the products discussed herein.