The frequent news reports that surround us often deal with troubling topics such as violence in the workplace, acts of terrorism and murder in the streets. This negative focus can make the world seem a scary place. However, we each have a sphere of influence where we can make a positive difference. Rather than becoming discouraged, we can make the world better and safer in small, but influential ways.
A recent report from by the Corporation for National and Community Service (CNCS) and the National Conference on Citizenship (NCoC) offers one measure of how many good deeds are taking place in our communities by millions of Americans of all ages. While a quarter of Americans volunteer for an organization, more than 60 percent take the time to help their neighbors.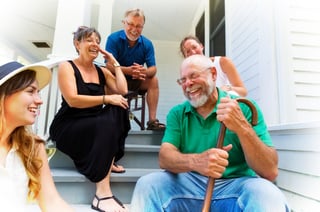 According to Wendy Spencer, CEO of CNCS, this service "connects us with our neighbors and provides a chance to use our skills for the common good." These considerate actions are more common than you might expect. Last year, more than 138 million Americans assisted their neighbors in various ways such as helping with shopping and errands, house sitting or keeping a watchful eye on the neighborhood's young children and elderly adults.
An AARP survey found nearly 90 percent of older adults want to remain living at home in their own communities. Being a good neighbor can help older adults achieve that goal. The simple act of shoveling snow, raking leaves or taking an elderly neighbor to the store or medical appointment can help a senior remain independent. Keeping vigilance in and around the neighborhood can help protect vulnerable seniors from fire, robbery and scams. Taking note of a change in usual activity might be important in alerting to family members to possible falls or other medical concerns.
I will always be grateful to one of my mother's neighbors in her senior apartment building who phoned me the evening my mother failed to show up for their regularly scheduled card game. The neighbor's willingness to keep my phone number on hand and notify me when things didn't seem right, allowed me (and my siblings) to respond quickly to the situation. That thoughtful action led to quick medical intervention and protected our family from guilty afterthoughts of "what if."
Elderly adults frequently rely on a network of neighbors, friends and family members to help them maintain their independent lifestyle. Sometimes this informal system of care just isn't enough. When that time comes, ComForCare/At Your Side can provide additional assistance with in-home care. Our trained caregivers can help with bathing or dressing, meal preparation, transportation or medication assistance. ComForCare/At Your Side offers in-home care whenever it is needed – for just a few hours a day or around the clock care. Choose ComForCare/At Your Side for when you can't be there.
Helen Beamer has work experience in home care, hospice, mental health and community nonprofits, serving in diverse roles such as music therapist, volunteer coordinator and community organizer. No matter the setting, Helen strives to support and encourage clients and families through life's challenges. Helen is the community enrichment director for ComForCare and in that role helps promote and implement DementiaWise®, our proprietary dementia care program. She also has many years of personal experience as a family caregiver.