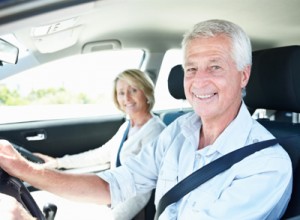 Physical changes that come from aging are often noticeable when driving. Summer often means longer trips to visit family or to take a vacation, and these drives can be stressful. Make sure to keep your family and doctor up to date with any issues you may be facing while driving and let them know when you'll be traveling. Continuing to drive allows you to maintain independence, and these tips can help you do so safely.
Safe Travels for Seniors
Make sure your car receives regular maintenance. Don't hesitate to take your vehicle in if you feel something is wrong.
Allow extra time to get to your destination in case of traffic and make sure to familiarize yourself with your route.
Consider investing in a GPS which allows you to easily get to any address. Make sure to enter your destination before you begin driving.
Take a break every hour or two to walk around, stretch and go to the bathroom. Switch drivers if possible.
Keep some essentials in your car: sunglasses, tissues, water and a snack.
Take a refresher course for older drivers to make sure you're confident in your driving skills.
Get yearly eye and ear exams to ensure you are conscious of your surroundings while driving.
Know your own driving limitations. If a trip seems too long or uncomfortable, search for alternative methods of transportation.
Avoid driving at night or when there is high traffic. Schedule trips through busy areas before or after rush hour.
Be aware of any health conditions you face that may affect your driving. Consult your doctor with any questions.