For most people, summer is a time to be more active, such as taking a trip to the beach, strolling around town or gardening in the backyard. However, warm weather activities can provide opportunities for unintentional injuries and falls, especially for older adults.
Ways to keep safe
Wear closed-toe shoes. Flip flops are the top choice for cooling off in hot temperatures, but the flimsy sandals can trip the wearer or snap while walking. In addition, flip flops offer little protection whether it's from a bug bite or falling glass of iced tea.
Practice Tai Chi. Tai Chi is an ancient Chinese martial art. Today, it's a mix between meditation, exercise and dance. It targets strength, gait and balance through slow, low-impact movements. Many studies have shown Tai Chi to reduce falls.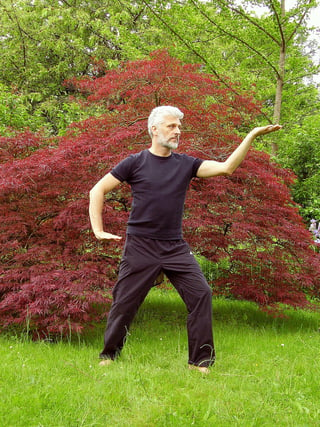 You can find a local Tai Chi or martial arts school near you. Most lessons occur outside, so you'll still enjoy the weather.
Clear out your outdoor hangout. A familiar joke in old cartoons was the rake gag where one of the characters would unknowingly step on the rake's head, which would smack the long handle into their face. It's funnier on TV than in real life, however. Garden tools, ornaments and landscaping materials can become fall hazards and should be cleared from walkways or popular avenues around your yard. If you have patio furniture, make sure it's sturdy and not too low to the ground. Being stuck in a sofa or tumbling from a collapsed chair is not a fun way to spend your summer.
Hydrate. Everyone knows it's important to drink lots of fluids, especially water, during the hotter months. According to the Mayo Clinic, dehydration can cause dizziness, which is one of the leading causes for falls. Check out our post "Tips for Seniors to Beat the Heat" for different ways to avoid dehydration.
Take care around swimming pools. Swimming is an excellent way for seniors to keep cool and work out. However, the concrete paths around in-ground pools can become slippery from splashes and lead to a fall: tread carefully. Moreover, install pool railings for easy access and secure any loose tiles on the pool's walls. Swimming with a partner is recommended by the American Red Cross, so don't forget to swim with a buddy or where there is a lifeguard on duty.
Slide on some shades. The sun's UV rays can damage your eyes, but wearing sunglasses can help protect your peepers. To learn more about vision health, download our infographic "Low Vision and AMD."
We hope these tips will help you or a loved one have a safe – and fun – summer.