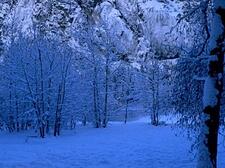 This winter has been an early and rough one in all the way across the U.S., with freezing cold temperatures and lots of snow, ice and slush. While everyone must be careful in this weather, seniors are especially vulnerable to the dangers of winter. Especially as travel ramps up for the holidays, here are some basic tips for making sure your aging loved ones stay safe through the winter.
Help Your Aging Loved Ones Stay Safe in Cold Weather
Keep warm
We think of hypothermia as a result of extreme cold, but vulnerable people – like seniors and infants – can fall prey to accidental hypothermia even with temperatures of 60 to 65 degrees Fahrenheit. Seniors should never sleep in a cold room and should keep their thermostats set to at least 68 degrees during the day time, and higher at night.
Dress warm
When venturing outside, it's important to dress warmly to ward off frostbite and hypothermia. Start with synthetic or silk thermal underwear, which wicks moisture away from the skin. Wear loose, light layers instead of a single heavy sweater as they trap more heat without the moisture from sweating, but top off your layers with fleece or a wool sweater when going outside. Wear water repellant outerwear, especially if your community has experienced heavy snow, and make sure you have a pair of comfortable, sturdy and waterproof snowboots – keeping feet dry and warm is essential. Wear gloves and a hat outside, and make sure the hat covers your ears.
Warm your home, but carefully
Some homes are drafty and there is simply no way to get around it, so we understand utilizing fireplaces, space heaters, and wood stoves. But all of those supplemental heating methods carry with them certain dangers so it's important to use them safely. Always follow manufacturers' instructions for space heaters and wood burning stoves and only use the kind of fuel specified by the manufacturer. Keep space heaters on the floor, at least three feet away from water, furniture, rugs, bedding and curtains, and unplug it before you go to bed. Never leave a space heater running unattended overnight. Never add fuel to a space heater when it is hot, and make sure you have a fire extinguisher in the house in an easy to reach location in case of an emergency.
Getting through the winter safely should be a priority for all seniors as well as family members and caregivers. With a few simple steps you can increase your loved ones' safety while still keeping their winter warm and cozy.
Next Steps
For more tips about winter, check out our other blog posts
In addition to cold weatehr safety, learn fow to prevent falls by downloading our tipsheet