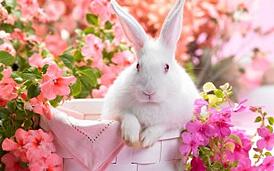 Spring is in the air! After a long winter stuck indoors, you and your loved ones are probably ready to get some fresh air. With the sun shining and warmer weather coming our way, now is the perfect time to enjoy the outdoors and engage with your aging parent or relative.
See below for some great spring activities.
Engage with Your Aging Parent
Craft Time
Bring the grandkids over to help decorate kites with your aging loved one. Then go to a nearby park and watch as the kids run and play. The fresh air and bright kites flying in the sky will be such fun for everyone involved.
Spring Cleaning
While this doesn't sound like the most fun activity we can think of, it's great exercise for your aging relative. You'll also feel better once the winter decorations and heavy coats are put away and the house is ready for the warmer weather. Have your senior sort a junk drawer and place items in separate containers or do some light gardening. Be sure to take plenty of breaks so your loved one doesn't get too overworked.
Celebrate the Holidays
Decorating Easter eggs with the grandkids and letting your senior help you pack Easter baskets will have them reminiscing about when their own kids were young.
Go For a Walk
With the birds chirping and the chilly weather on its way out, now is the perfect time to take your senior to a local park or walking path. Even sitting on the front porch chatting and listening to the sounds of spring is healthy for mind and body.
What other spring activities do you enjoy doing with your aging loved one? Share with us on our Facebook page.