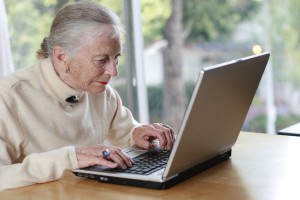 Here's a fun fact that many people don't know: the 74 and up is the fastest growing age demographic among social network users. Yes, you read that right -- the senior citizen generation has officially jumped on the social networking bandwagon.
This year alone, 43% of citizens 65 and older reported to using at least one social networking site compared with just 26% in 2010. That is a significant increase! So, why the sudden uptick in seniors use of social media, you ask? Well, there are a couple of reasons.
Reasons Why Social Media Use for Seniors is Increasing
Social interaction is a crucial part of life at any age, but loss of personal relationships can have a particularly negative effect on the elderly. Many older Americans suffer from feelings of isolation and depression due to their decreased physical capabilities and loss of independence. To combat this isolation, many seniors turn to social media for personal interaction because it can be accessed from the comfort of their own homes. For example, networks such as Facebook and YouTube are frequently used by seniors who have limited mobility to stay in touch with friends and family.
Another reason more and more seniors have quickly adopted social media is to engage in easy research and cultivate new interests and hobbies post-retirement. From learning about new health trends to researching new places to travel and explore, social media can be a great tool to keep your mind sharp and your curiosity piqued!
To learn more about ways in which social media can benefit your current lifestyle, check out your local libraries or Park District for helpful classes that will go through the process of accessing different networks with you step-by-step.
Next Steps