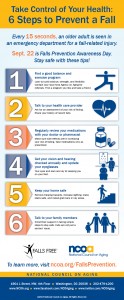 According to the National Council on Aging (NCOA), every 15 seconds a senior is seen in the emergency room for a fall-related injury. NCOA wants to help you take control of your health and keep you safe with their six steps for preventing falls and fall-related injuries.
Avoid Falls As You Age
1. Find a Good Balance and Exercise Program
Utilize exercises that focus on balance, strength, and flexibility. Contact your local Area Agency on Aging for local referrals.
2. Talk to Your Health Care Provider
Ask your doctor for a risk of falling assessment based on your current health and fitness. Be sure to share your history of recent falls no matter how minor. The information you provide to your doctor will increase the level of care he or she can give you.
3. Regularly Review Your Medications with Your Doctor or Pharmacist
Ensure all your prescriptions and medications are up-to-date and look them over to check for side effects that may increase your risk of falling. If you notice you have one of the listed side effects, talk to your doctor immediately!
4. Get Your Vision and Hearing Checked Annually and Update Your Eyeglasses
Your eyes and ears are critical for keeping you on your feet! Know your hearing and vision abilities by getting checked regularly, and use the corrective measures recommended by your doctor.
5. Keep Your Home Safe
Boost safety measures in your home to help you safely navigate it. Remove tripping hazards, increase lighting fixtures, and install grab bars in key areas.
6. Talk to Your Family Members
Enlist your family's support in taking simple steps to stay safe. Falls are not just a seniors' issue!
For more information on National Falls Prevention Day and how to prevent falls, visit http://www.ncoa.org.