Home should be a place of comfort and safety. However, as time passes, those familiar surroundings may pose safety concerns for elderly people. Due to increasing age, older adults see and hear less clearly, their balance is less steady, and their reaction times are slower. Household and personal tasks that were once safe and easy to complete can become difficult and even dangerous.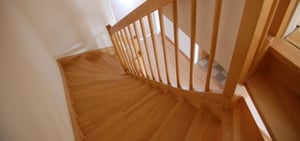 This may be a good time to look around your loved one's home for potential safety hazards. Being proactive may prevent an injury or accident from occurring in the home. It's important to assess the situation carefully. Your elderly loved one may be reluctant to bring household problems to your attention due to concerns about costs, a desire to maintain personal independence, or simply not wanting to make extra work for you.
If you are caring for an older loved one, here is a checklist of some actions you can take to help keep the home environment safe.
Look in and around the home for possible fall risks. Stairways, both inside and out, should have sturdy railings. Make sure all railings are securely fixed to the wall.
Ensure all entrances, hallways and stairs have good lighting. Diminished vision combined with poor lighting increases the likelihood of falls. Add nightlights in and around the bathroom.
Make sure appliances, electrical devices and outlets are in good working order. If necessary, make repairs and replacements.
Turn down the thermostat on the hot water heater. Older adults can accidentally be scalded due to decreased sensitivity to hot water. Set the water temperature at or below 120 degrees Fahrenheit.
Have emergency numbers on the senior's speed dial. In addition to 911 for fire, police and other emergencies, add the home, cell and work phones for you and other family caregivers. Also include phone numbers for the pharmacy, poison control and a trusted neighbor who lives nearby. Label every number clearly with large letters so a distressed senior can locate the right number quickly in an emergency.
Make sure the smoke alarms work. You should change the batteries at least once yearly, but the alarms should be tested monthly. Press the test button to see if the alarm is in working order.
Keep essentials by the bedside. If your loved one's memory is not what it once was, having essential items in locations that are visible and readily accessible is a good idea. A touch-activated lamp may be useful. Eyeglasses, hearing aids and a phone should be within arm's reach.

Improve safety in the bathroom. You can help protect your elderly loved ones from falls by making the bathroom environment safer. Some suggestions to implement are to install grab bars near the toilet and bathtub area and to use a nonslip mat, shower chair and/or a handheld shower.
In addition, self-care is an important part of fall prevention. Download our infographic Protect Yourself Against Falls for more ideas on how to stay safe.
A safe home environment can allow you and your elderly loved ones to live your best life possible. Contact your local ComForCare/AtYourSide Home Care to get an in-home safety evaluation today.
Editor's Note: This article was originally published Sept. 22, 2015. It has been revamped and updated for accuracy and comprehensiveness.