Joy. Peace. Happiness.
Wouldn't it be great if those were the only emotions we felt during the holidays? In reality, this time of year can be quite hectic and stressful, especially for family caregivers whose plates are full already. The increase in stress can detract from the celebrations. To better enjoy the season, try scaling back.
Here are a few ideas:
Simplify Activities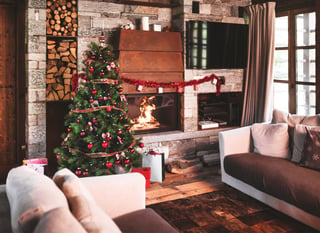 If your family traditions are becoming more burdensome than enjoyable, switch it up. Instead of setting up a Christmas tree, a nativity scene, holiday lights, snow globes, nutcrackers, poinsettias and other decorations, pick a few special items to display. Is it really necessary to make six different kinds of cookies? With a smaller to-do list, there's less to get stressed about!
Divide and Conquer
While the American Psychological Association says people in the U.S. report more stress during the holidays, women are affected more than men. Why? Women tend to shoulder the majority of the planning, shopping, cooking, etc. If you find yourself always taking charge, step back and delegate assignments.
The website www.signupgenius.com is an easy and free way to divvy up shopping lists, organize potlucks or coordinate events. If you're the type to skate by and let others do the planning, step it up this year. Even the gesture of offering to help will be appreciated.
Buy Less
Money (more specifically the lack thereof) is often the cause of stress during the holidays. While presents are fun to get and receive, they shouldn't take center stage. Instead of exchanging gifts with all of your friends and family, try a "Secret Santa," where each person buys just one present for someone in the group or hold a "white elephant" exchange. Another idea is to gift time instead of things. Make coupons for fun activities you can do with your loved ones throughout the year. The memories you create will last a lifetime.
Remember, the holidays are an opportunity to spend quality time with your loved ones. If you find yourself overwhelmed with responsibilities, ComForCare is there for you. Let us help grandma address the Christmas cards or take her to a holiday tea party. Or maybe you just need a break from everyday caring. Our services are available for a few hours a day to 24/7.