By The Elf Consortium – including Michael, Bernard, Jingle and others who wish to remain nameless
Santa is old. Being old is a risk factor for falls. However, Santa takes steps that help protect him from falls on steep, icy roofs. Falls are a constant occupational hazard for Santa, but he takes extra care. Here are some tips you can learn from Santa to reduce winter falls.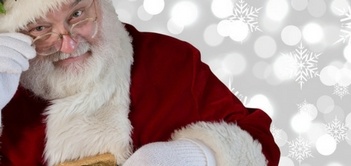 Use sufficient lighting – Rudolph's nose lights the path for Santa's trip across the roof to reach the chimney
Don appropriate footwear – Santa's boots have nonskid soles, low heels and are tall enough to go through any snow drifts.
Engage in vigorous physical activity – While going down the chimney relies on gravity, getting up the chimney takes some effort. Putting a finger aside his nose in all those houses requires stamina. In addition, placing presents under each tree involves a lot of bending and squatting.
Obtain an alert system – Santa has an awesome alert system that tracks his whereabouts and body position at all times. Emergency Locator for Falls (ELFF) sends emergency help at a moment's notice.
Maintain a list of contacts – Santa not only keeps lists of children who are naughty or nice. He also carries a list of his prescription medications along with a notarized advance directive in the event a fall occurs.
ComForCare and At Your Side Home Care encourage everyone to adopt fall prevention strategies and to HAVE A MERRY CHRISTMAS!