Studies all around the world are beginning to show a significant link between mental stimulation and increased cognitive function in Alzheimer's patients. Alzheimer's disease impairs memory and reasoning skills. Certain games and activities that exercise these skills have shown to effectively improve cognitive functions which are affected by Alzheimer's disease.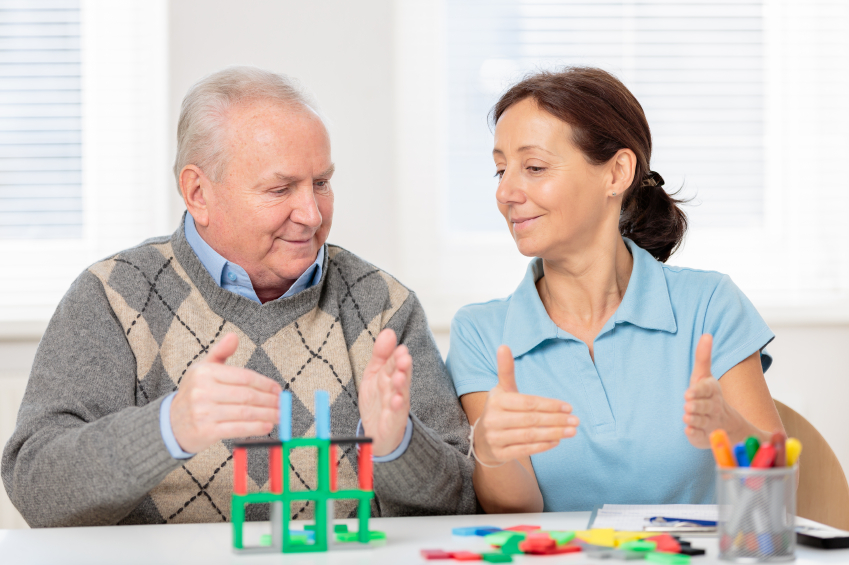 Activities that stir memories or promote emotional connections with others also help to counteract the anxiety and anger that often contribute to behavioral issues and emotional outbursts in Alzheimer's patients. When participating in games and hobbies with Alzheimer's patients, caregivers should gauge the reaction of the senior and stop the activity if frustration ensues. Games and hobbies typically only have positive results if the experience is positive.
Mentally Stimulating Games
There are many games that are being found to help provide mental stimulation for Alzheimer's patients. Bingo and the Memory Game are two of the most commonly recognized games that promote reasoning and memory functions. Both of these games can be played with groups of people to promote social interaction and emotional connection for greater benefit. Both Bingo and the Memory Game are also very basic and may be enjoyed even by patients with more advanced stages of Alzheimer's disease.

Advanced Brain Games
For patients with Alzheimer's disease in early stages, it may be possible to play more advanced electronic brain games. Games such as Brain Age for Nintendo systems, Smartbrain, and Brain Fitness exercise a variety of different cognitive functions. Many different types of brain games can also be found online or at retail stores to be played on personal computers. These types of games have been found to have a lasting effect on improved cognitive functions, with patients experiencing decreased Alzheimer's symptoms for days after playing.

Hobbies and Activities
Encouraging Alzheimer's patients to engage in hobbies or activities such as knitting, painting, puzzles, and crafts may help to encourage creativity, which can improve reasoning skills. These activities may also help to promote a feeling of accomplishment when a painting, craft, or puzzle is finished. Feeling accomplished may assist in mitigating negative emotions and behaviors. When these types of activities are done with caregivers or others, it can help to foster connections and promote positive emotional experiences.

Music and Movies
Playing music and watching movies from different eras throughout an Alzheimer's patient's life may help to inspire memories and optimistic feelings. While any type of music or movies may help to exercise cognitive functions, music and movies that have specific meaning to seniors may be more helpful. Caregivers may further increase the benefits of these activities by quizzing seniors on the names of the actors that are in movies or the names of bands or singers of songs that are being played.