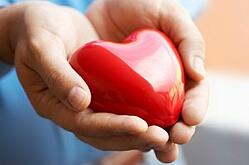 Did you know that heart disease is the number one killer of women? According to the American Heart Association, more women die of heart disease than all forms of cancer combined. Though awareness should always be at the forefront, February is especially important because it is recognized as American Heart Month.
7 Symptoms of Heart Attacks in Women
To raise awareness, we've collected the top 7 symptoms of heart attacks in women – be careful, men's symptoms are different!
1. Unusually heavy pressure on the chest, like there's a ton of weight on you
2. Sharp upper body pain in the neck, back, and jaw
3. Severe shortness of breath
4. Cold sweats, and you know it's not menopause
5. Unusual or unexplained fatigue (tiredness)
6. Unfamiliar dizziness or light-headedness
7. Unexplained nausea (feeling sick to the stomach) or vomiting
Suzanne Haynes, Ph.D., Senior Science Advisor to the U.S. Department of Health and Human Services Office on Women's Health.
For a cute and helpful rap song that helps remind you of these 7 symptoms, check out this article on Huffington Post.