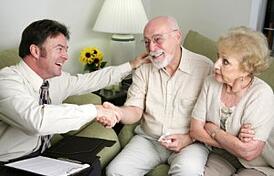 In a recent article published in a UK newspaper, an elderly man was tricked out of £4 million in a fake shares and investment scam. This is equivalent of approximately six million U.S. dollars. The elderly man, who regularly sent off money for the fake investments, could face losing his house and it is not possible for him to recover all of his money.
Financial Scams Target Seniors
Unfortunately, this is a common practice in our world today. A recent survey by the North American Securities Administrators Association (NASAA) shows senior investment fraud accounts for nearly 50% of all complaints received by state securities regulators.
The elderly is at high risk for being scammed out of money and personal information via the internet, mail, phone, in-home visits, and free "financial seminars" specifically targeted at seniors. So, how can we protect our parents and loved ones against falling victim to such scams?
Protecting Your Elderly Loved Ones Against Scams
Get involved. Often times there comes a point in your elderly loved one's life when they need help managing their personal finances. It's important to pay attention on behalf of your family member and stay involved in their financial decision-making.
Have a conversation. Take the time to warn your parents or elderly family about not giving out personal banking information, credit card numbers, or social security numbers to just anyone who calls. Keep in mind that popular scams include callers about charity donations or sweepstakes or free products.
Request written documentation. If a salesperson or someone from a "government agency" calls asking for personal information, ask them to send a written document with information about their company, his or her name and contact information. If they won't do this, you can suspect they are not legit.
Who's at the door? Talk to your parents and loved ones about taking precautions when answering the door to strangers. Often times scammers will travel from house to house offering to do maintenance or construction work. Don't hire someone who just shows up at the door.
Be cautious when using the Internet. Many seniors are using the Internet and email to keep in touch with family these days, which is excellent. But warn them about possible emails from fraudulent parties. They should never be giving out their personal information over the Internet, unless they are sure it's a secured site. A good solution is to take some time to educate them on the workings of the Internet or sit with them when they are checking emails.
Visit AgingCare.com for additional information and more tips and the elderly and scams.