Falls are always a concern for older adults. Every year, more than one in three people 65+ fall. Fall rates also increase with age. This time of year often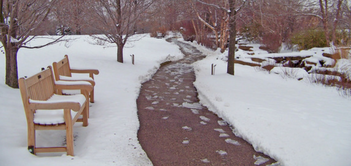 brings the concern to the forefront with snowy sidewalks and icy steps blanketing large parts of the country. While falls can happen anywhere, most happen at home. Here's how ComForCare/At Your Side Home Care can help older adults live independently and continue to do the things they love, no matter the season.
Dressing. Whether snowflakes are flying or temperatures are rising, caregivers can make sure seniors dress appropriately for the weather and wear properly fitting shoes and clothes. Pants that are too long or shoes with slippery soles can be fall hazards.
Bathing. Bathrooms are a common place for falls due to water and moisture. Caregivers can help older adults get into or out the tub/shower, go the bathroom and assist with other hygiene needs. Grab bars, raised toilet seats, a shower chair and non-skid mats inside and outside of the shower can also help reduce falls.
Transportation. Getting in and out of a car, navigating a parking lot and shopping can be challenging if someone has mobility issues. Caregivers can help older adults safely get to and from doctor appointments, errands, or visits with friends and family.
Organization. Once the shopping is done, it's important to put the purchases away before they become a trip hazard. Caregivers can help declutter, maintain clear pathways and mop up spills as they happen. In addition, caregivers can put frequently used household items, such as pots and pans, within reach rather than on high shelves.
Assessments. Many ComForCare/At Your Side Home Care locations offer free in-home fall safety evaluations and fall risk assessments. Our trained professionals can look at all aspects of a person's living conditions and make recommendations to reduce fall risks. During our home safety checks, we look at things such as lighting, railings and common trip hazards such as throw rugs or torn carpeting. In addition, certain medications, chronic conditions and impaired vision can increase a person's fall risk. We take all these factors into consideration.
For additional ideas on how to help keep seniors safe, download our Reduce Fall Risks at Home infographic. To learn more about how we can help older adults live safely in their homes, contact us today at 800-886-4044. We're available around the clock to answer your questions.