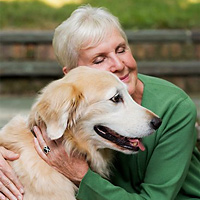 Sometimes, all you need is a snuggle from a puppy or the purr of kitty to make everything okay. Pet therapy or Animal Assisted Therapy (AAT) is a relatively new field that has grown in popularity amongst children and adults.
Benefits of Pet Therapy
Under the direction of health services and education professionals, AAT can promote physical movement, emotional well being, cognitive awareness, and social improvement for people with disabilities, according to the Rehabilitation Institute of Chicago.
Get a Pet For Your Elderly Loved One
But you don't always have to work with a special aid dog or cat to reap the benefits. Pets can help your elderly loved one by healing loneliness, making them feel safe and loved, and by creating a daily routine for them. Pets are a big responsibility and they often give people a reason to get up each day and stay motivated.
Check with local hospitals and rehab centers to see if there is a pet therapy program near your elderly loved one.