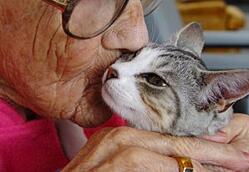 There was an article today about a humane society in southern Illinois pairing up older pets with senior citizens. Pets can spark new life in our aging relatives, especially those who are struggling with the recent loss of a spouse. If an older adult isn't able to fully care for a pet on his or her own, another great option is pet therapy.
Pets Help Seniors Emotionally and Physically
One of our franchise owners, Alicia Junghans, in Grand Rapids, Mich. adopted a mixed St. Bernard/Great Dane puppy named "Lucy" and recently started offering pet therapy services to her clients and others in her area.
Here she is with Lucy on her local FOX station.
Experts have found that among seniors, pet therapy can diminish emotional and physical pain, reduce boredom, decrease anxiety, ease blood pressure and heart rate, and offset feelings of depression.
Look for pet therapy services in your area today or contact Alicia if you're in the Grand Rapids area!