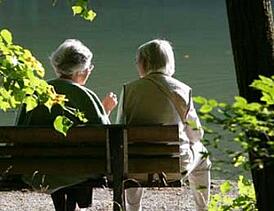 If you're nervous about talking to your loved one about long-term care, don't worry – you're not alone. Millions of Americans are already caring for their aging parents and relatives and those numbers will only increase as the years go on. But taking that first step to talk to your loved ones and have a conversation about long-term care is an important one. So how do you know if your loved one truly needs help?
Signs it's Time to Talk About Long-Term Care
There are several signs to look for – many you'll notice during the holiday season as you spend more time with your relatives.
Pay attention to the condition of his or her home. Is it more messy and cluttered than usual? Are kitchen supplies being put away in the right places? Are bills being paid on time?
Look at the condition of the person. For instance, take notice to his or her hygiene and clothing. Is he or she taking showers, brushing teeth and changing clothes on a daily basis? More importantly, do his or her clothes make sense? Check to see if your elder is wearing weather-appropriate clothing items. Weight loss is also a sign that they may need additional care.
Confusion and forgetfulness are both important factors to consider. Is he or she missing doctor's appointments, forgetting to take medications, missing church when they have been regular church-goers their whole lives? Is he or she confused when you talk to them about topics that they'd normally understand?
If the answers to these questions are yes, then you will have to speak to him or her about long-term care. Before approaching your loved one and communicating with them about the topic, inform the elder of your desire to have the discussion. Remember it is not an intervention, and you don't want anyone to be on the defensive right away. Let he/she know you love them and would like to talk about the future.
Having the Talk With Your Loved One About Care Options
Be sure to do research before the talk and set an agenda of what you will say. In doing research, be sure to consider all options. Remember, if your elder is apprehensive about living in an assisted living or nursing home, there are other alternatives. With the help of home care assistants, people can remain in their home indefinitely. By providing assistance with activities of daily living such as light housekeeping, meal preparation, dressing, bathroom assistance and other services, home care is an effective solution for the elderly who prefer to remain at home where their quality of life is enhanced without the stress and hardship of interrupted routines and daily habits. Care is provided on an hourly, daily, weekly or live-in basis.
Regardless of the option you choose, be sure to consider your relative's independence and what brings him /her joy. And when you're expressing your concerns, don't mandate anything. Instead, listen to your elder and consider your relative's priorities. Understand that it's not always going to be smooth. If the conversation gets heated, try again on another day.