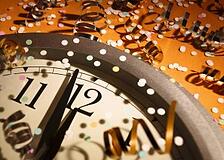 This is a time of year when we reflect on the past year and start thinking about the year ahead. What changes can we make and how can we better ourselves? Some resolutions are very personal, and others are good to discuss with friends and family, so you stick to them! The celebration of the New Year is the oldest of all holidays, and the tradition of New Year's resolutions dates back to 153 B.C. Janus, a mythical king of early Rome who had two faces, signifying his ability to look back on past events and forward to the future, became the ancient symbol for resolutions.


Resolutions to Consider for the Coming Year
In keeping with tradition, what resolutions will you make this year? Here are a few to consider:

Save money. Consider every outlet you spend money throughout the year and ask yourself, is this necessary? Have you been paying for a monthly subscription to something you don't use? Are you buying too much food each week at the grocery store and being wasteful? Are you going over your budget each month? Rein it in a bit and you'll feel better about your financial situation at this time next year.

Make better lifestyle decisions. Stop smoking and reduce or quit drinking alcohol. Smoking harms you and second-hand smoking harms those around you. Drinking can be dangerous as you get older. Mixing alcohol with prescription drugs can cause you to lose your balance and seriously injure yourself.

Be happy. Do something every day that makes you smile.

Get out of town. Use this time to enjoy "you". Make a list of every locale you've never been but would like to visit and start traveling!

Be healthy. This doesn't necessarily mean you have to lose a bunch of weight, but get active and make an effort to eat healthier. Go for a bike ride with your spouse each morning or get a group of your friends together to walk a couple times a week. Choose to eat better for you options.

Visit our Facebook page and share your resolution with us!